Barca and Real rivalry satirized amid Catalonia crisis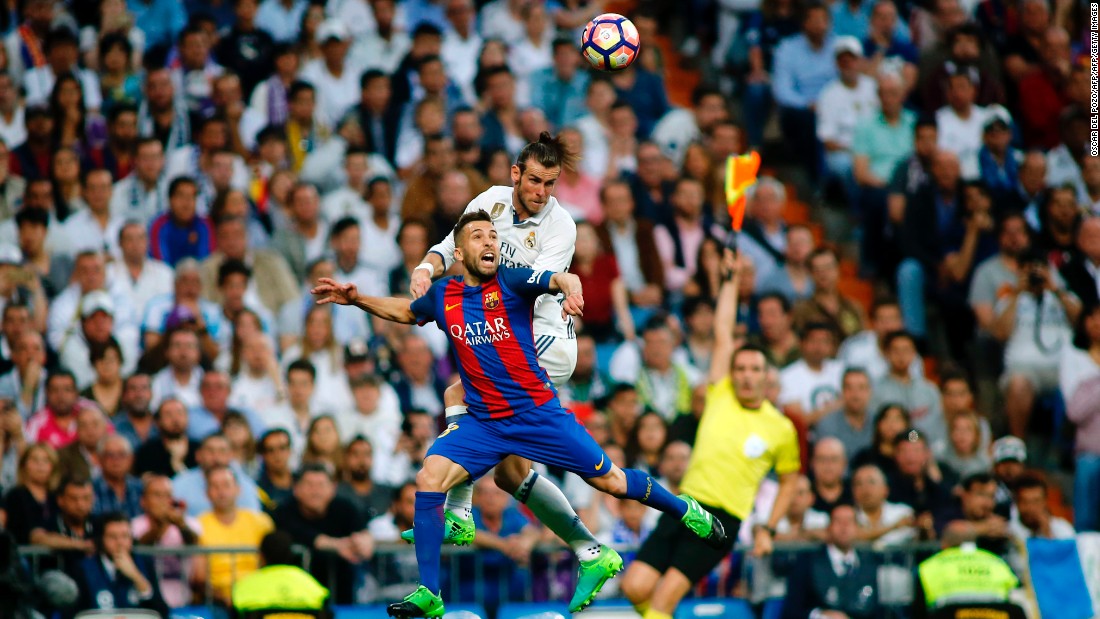 He miskicks his effort, but it is helped into the open goal by one of a phalanx of riot police flanked either side of him. Rajoy then runs off to celebrate.
Each season, the rivalry between Spain and Catalonia is played out on the soccer field, when the two giants of La Liga, Barcelona and Real Madrid, meet in El Clasico, one of the world's most anticipated games.
/* global CNN, Modernizr */'use strict';CNN.INJECTOR.executeFeature('video').then(function () {CNN.VideoPlayer.handleUnmutePlayer = function handleUnmutePlayer(containerId, dataObj) {'use strict';var playerInstance,playerPropertyObj,rememberTime,unmuteCTA,unmuteIdSelector = 'unmute_' + containerId,isPlayerMute;dataObj = dataObj || {};if (CNN.VideoPlayer.getLibraryName(containerId) === 'fave') {playerInstance = FAVE.player.getInstance(containerId) || null;} else {playerInstance = containerId && window.cnnVideoManager.getPlayerByContainer(containerId).videoInstance.cvp || null;}isPlayerMute = (typeof dataObj.muted === 'boolean') ? dataObj.muted : false;if (CNN.VideoPlayer.playerProperties && CNN.VideoPlayer.playerProperties[containerId]) {playerPropertyObj = CNN.VideoPlayer.playerProperties[containerId];}if (playerPropertyObj.mute && playerPropertyObj.contentPlayed) {if (isPlayerMute === false) {unmuteCTA = jQuery(document.getElementById(unmuteIdSelector));playerInstance.unmute();if (unmuteCTA.length > 0) {unmuteCTA.removeClass('video__unmute–active').addClass('video__unmute–inactive');unmuteCTA.off('click');rememberTime = 0;if (rememberTime 0) {$vidEndSlate.find('.l-container').html('

');$vidEndSlate.removeClass('video__end-slate–inactive').addClass('video__end-slate–active');}};CNN.autoPlayVideoExist = (CNN.autoPlayVideoExist === true) ? true : false;var configObj = {thumb: 'none',video: 'sports/2016/11/30/xabi-alonso-arjen-robben-real-madrid-barcelona-bayern-munich-el-clasico-intv.cnn',width: '100%',height: '100%',section: 'domestic',profile: 'expansion',network: 'cnn',markupId: 'body-text_15',adsection: 'const-article-inpage',frameWidth: '100%',frameHeight: '100%',posterImageOverride: {"mini":{"height":124,"width":220,"type":"jpg","uri":"//i2.cdn.cnn.com/cnnnext/dam/assets/161130191728-el-clasico-crowd-lineups-pre-match-small-169.jpg"},"xsmall":{"height":173,"width":307,"type":"jpg","uri":"//i2.cdn.cnn.com/cnnnext/dam/assets/161130191728-el-clasico-crowd-lineups-pre-match-medium-plus-169.jpg"},"small":{"height":259,"width":460,"type":"jpg","uri":"//i2.cdn.cnn.com/cnnnext/dam/assets/161130191728-el-clasico-crowd-lineups-pre-match-large-169.jpg"},"medium":{"height":438,"width":780,"type":"jpg","uri":"//i2.cdn.cnn.com/cnnnext/dam/assets/161130191728-el-clasico-crowd-lineups-pre-match-exlarge-169.jpg"},"large":{"height":619,"width":1100,"type":"jpg","uri":"//i2.cdn.cnn.com/cnnnext/dam/assets/161130191728-el-clasico-crowd-lineups-pre-match-super-169.jpg"},"full16x9″:{"height":900,"width":1600,"type":"jpg","uri":"//i2.cdn.cnn.com/cnnnext/dam/assets/161130191728-el-clasico-crowd-lineups-pre-match-full-169.jpg"},"mini1x1″:{"height":120,"width":120,"type":"jpg","uri":"//i2.cdn.cnn.com/cnnnext/dam/assets/161130191728-el-clasico-crowd-lineups-pre-match-small-11.jpg"}}},autoStartVideo = false,callbackObj,containerEl,currentVideoCollection = [],currentVideoCollectionId = ",isLivePlayer = false,moveToNextTimeout,mutePlayerEnabled = false,nextVideoId = ",nextVideoUrl = ",turnOnFlashMessaging = false,videoPinner,videoEndSlateImpl;if (CNN.autoPlayVideoExist === false) {autoStartVideo = false;if (autoStartVideo === true) {if (turnOnFlashMessaging === true) {autoStartVideo = false;containerEl = jQuery(document.getElementById(configObj.markupId));CNN.VideoPlayer.showFlashSlate(containerEl);} else {CNN.autoPlayVideoExist = true;}}}configObj.autostart = autoStartVideo;CNN.VideoPlayer.setPlayerProperties(configObj.markupId, autoStartVideo, isLivePlayer, mutePlayerEnabled);CNN.VideoPlayer.setFirstVideoInCollection(currentVideoCollection, configObj.markupId);videoEndSlateImpl = new CNN.VideoEndSlate('body-text_15');/*** Finds the next video ID and URL in the current collection, if available.* @param currentVideoId The video that is currently playing* @param containerId The parent container Id of the video element*/function findNextVideo(currentVideoId) {var i,vidObj;if (currentVideoId && jQuery.isArray(currentVideoCollection) && currentVideoCollection.length > 0) {for (i = 0; i 0) {videoEndSlateImpl.showEndSlateForContainer();}}}callbackObj = {onPlayerReady: function (containerId) {CNN.VideoPlayer.reportLoadTime(containerId);CNN.VideoPlayer.handleInitialExpandableVideoState(containerId);CNN.VideoPlayer.handleAdOnCVPVisibilityChange(containerId, CNN.pageVis.isDocumentVisible());if (Modernizr && !Modernizr.phone && !Modernizr.mobile && !Modernizr.tablet) {var containerClassId = '#' + containerId;if (jQuery(containerClassId).parents('.js-pg-rail-tall__head').length) {videoPinner = new CNN.VideoPinner(containerClassId);videoPinner.init();} else {CNN.VideoPlayer.hideThumbnail(containerId);}}},/** Listen to the metadata event which fires right after the ad ends and the actual video playback begins*/onContentEntryLoad: function(containerId, playerId, contentid, isQueue) {CNN.VideoPlayer.showSpinner(containerId);},onContentMetadata: function (containerId, playerId, metadata, contentId, duration, width, height) {var endSlateLen = jQuery(document.getElementById(containerId)).parent().find('.js-video__end-slate').eq(0).length;CNN.VideoSourceUtils.updateSource(containerId, metadata);if (endSlateLen > 0) {videoEndSlateImpl.fetchAndShowRecommendedVideos(metadata);}},onAdPlay: function (containerId, cvpId, token, mode, id, duration, blockId, adType) {clearTimeout(moveToNextTimeout);CNN.VideoPlayer.hideSpinner(containerId);if (Modernizr && !Modernizr.phone && !Modernizr.mobile && !Modernizr.tablet) {if (typeof videoPinner !== 'undefined' && videoPinner !== null) {videoPinner.setIsPlaying(true);videoPinner.animateDown();}}},onTrackingFullscreen: function (containerId, PlayerId, dataObj) {CNN.VideoPlayer.handleFullscreenChange(containerId, dataObj);},onContentPlay: function (containerId, cvpId, event) {var playerInstance,prevVideoId;/** When the video content starts playing, inject analytics data* for Aspen (if enabled) and the companion ad layout* (if it was set when the ad played) should switch back to* epic ad layout. onContentPlay calls updateCompanionLayout* with the 'restoreEpicAds' layout to make this switch*/if (CNN.companion && typeof CNN.companion.updateCompanionLayout === 'function') {CNN.companion.updateCompanionLayout('restoreEpicAds');}clearTimeout(moveToNextTimeout);CNN.VideoPlayer.hideSpinner(containerId);if (CNN.VideoPlayer.getLibraryName(containerId) === 'fave') {playerInstance = FAVE.player.getInstance(containerId) || null;} else {playerInstance = containerId && window.cnnVideoManager.getPlayerByContainer(containerId).videoInstance.cvp || null;}prevVideoId = (window.jsmd && window.jsmd.v && (window.jsmd.v.eVar18 || window.jsmd.v.eVar4)) || ";if (playerInstance && typeof playerInstance.reportAnalytics === 'function') {if (prevVideoId.length === 0 && document.referrer && document.referrer.search(//videos//) >= 0) {prevVideoId = document.referrer.replace(/^(?:http|https)://[^/]/videos/(.+.w+)(?:/video/playlists/.*)?$/, '/video/$1');if (prevVideoId === document.referrer) {prevVideoId = ";}}playerInstance.reportAnalytics('videoPageData', {videoCollection: currentVideoCollectionId,videoBranding: CNN.omniture.branding_content_page,templateType: CNN.omniture.template_type,nextVideo: nextVideoId,previousVideo: prevVideoId,referrerType: ",referrerUrl: document.referrer});}if (Modernizr && !Modernizr.phone && !Modernizr.mobile && !Modernizr.tablet) {if (typeof videoPinner !== 'undefined' && videoPinner !== null) {videoPinner.setIsPlaying(true);videoPinner.animateDown();}}},onContentReplayRequest: function (containerId, cvpId, contentId) {if (Modernizr && !Modernizr.phone && !Modernizr.mobile && !Modernizr.tablet) {if (typeof videoPinner !== 'undefined' && videoPinner !== null) {videoPinner.setIsPlaying(true);var $endSlate = jQuery(document.getElementById(containerId)).parent().find('.js-video__end-slate').eq(0);if ($endSlate.length > 0) {$endSlate.removeClass('video__end-slate–active').addClass('video__end-slate–inactive');}}}},onContentBegin: function (containerId, cvpId, contentId) {CNN.VideoPlayer.mutePlayer(containerId);if (CNN.companion && typeof CNN.companion.updateCompanionLayout === 'function') {CNN.companion.updateCompanionLayout('removeEpicAds');}CNN.VideoPlayer.hideSpinner(containerId);clearTimeout(moveToNextTimeout);CNN.VideoSourceUtils.clearSource(containerId);jQuery(document).triggerVideoContentStarted();},onContentComplete: function (containerId, cvpId, contentId) {if (CNN.companion && typeof CNN.companion.updateCompanionLayout === 'function') {CNN.companion.updateCompanionLayout('restoreFreewheel');}navigateToNextVideo(contentId, containerId);},onContentEnd: function (containerId, cvpId, contentId) {if (Modernizr && !Modernizr.phone && !Modernizr.mobile && !Modernizr.tablet) {if (typeof videoPinner !== 'undefined' && videoPinner !== null) {videoPinner.setIsPlaying(false);}}},onCVPVisibilityChange: function (containerId, cvpId, visible) {CNN.VideoPlayer.handleAdOnCVPVisibilityChange(containerId, visible);}};if (typeof configObj.context !== 'string' || configObj.context.length 0) {configObj.adsection = window.ssid;}CNN.autoPlayVideoExist = (CNN.autoPlayVideoExist === true) ? true : false;CNN.VideoPlayer.getLibrary(configObj, callbackObj, isLivePlayer);});/* videodemanddust is a default feature of the injector */CNN.INJECTOR.scriptComplete('videodemanddust');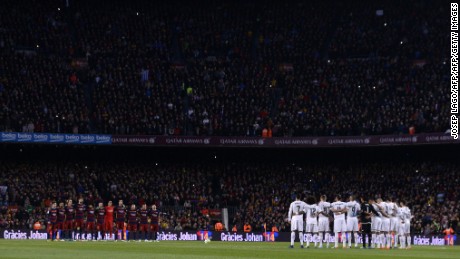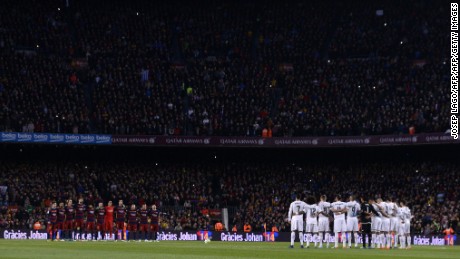 JUST WATCHED

El Clasico: '100,000 people whistling'
MUST WATCH
{"@context": "https://schema.org","@type": "VideoObject","name": "El Clasico: '100,000 people whistling'","description": "Bayern Munich stars Xabi Alonso and Arjen Robben are both ex-Real Madrid men and veterans of El Clasico. How is playing in the world's biggest game?","thumbnailURL": "http://i2.cdn.cnn.com/cnnnext/dam/assets/161130191728-el-clasico-crowd-lineups-pre-match-large-169.jpg","image": "http://i2.cdn.cnn.com/cnnnext/dam/assets/161130191728-el-clasico-crowd-lineups-pre-match-large-169.jpg","duration": "PT1M38S","uploadDate": "2016-12-02T11:22:23Z","contentUrl": "http://www.cnn.com/videos/sports/2016/11/30/xabi-alonso-arjen-robben-real-madrid-barcelona-bayern-munich-el-clasico-intv.cnn","url": "http://www.cnn.com/videos/sports/2016/11/30/xabi-alonso-arjen-robben-real-madrid-barcelona-bayern-munich-el-clasico-intv.cnn","embedUrl": "http://fave.api.cnn.io/v1/fav/?video=sports/2016/11/30/xabi-alonso-arjen-robben-real-madrid-barcelona-bayern-munich-el-clasico-intv.cnn&customer=cnn&edition=domestic&env=prod"}
Sumber: http://rss.cnn.com
World News
Related
Tags: #World News