Catalan President blasts Madrid for 'illegal' referendum raids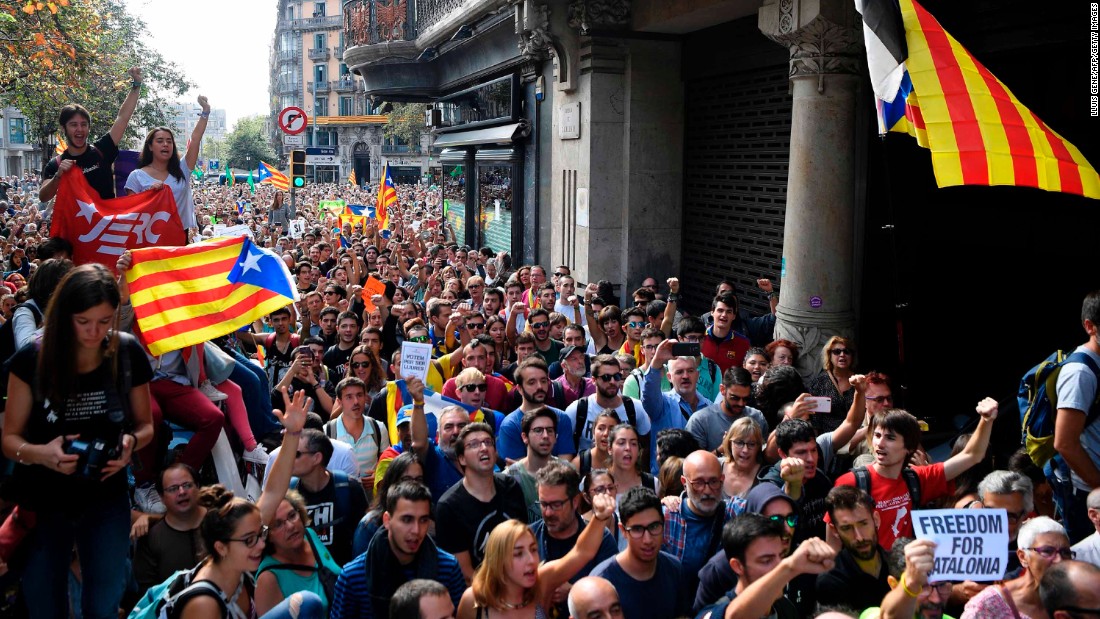 Madrid says the referendum is illegal, and argues that any Catalan official who participates in the organization of the vote is acting outside the law.
The country's Constitutional Court suspended the vote on September 6, after the central government argued that Spain's 1978 constitution declares that the country is indivisible,
Reuters reported
.
National authorities have stepped up their efforts to halt the vote in recent days. Officers from Spain's national police force, the Guardia Civil, arrested Catalonia's junior economic minister, Josep Maria Jove, along with eight other officials.
Police raided three Catalan government buildings — the Presidency, the Ministry of Economy and Finance and the Ministry of Foreign Affairs — Catalan authorities confirmed to CNN.
The raids were believed to be linked to the referendum's website, a spokesman for the regional government said.
Police also seized almost 10 million papers relating to the upcoming ballot at a warehouse in an industrial estate near Barcelona, the Ministry of Interior said. Papers such as voter lists, signs and paperwork for counting votes were also confiscated.
The Ministry of Interior said the seized papers were "essential electoral material for holding the illegal referendum suspended by the Constitutional Court."
Spain's Prime Minister Mariano Rajoy hit back at the Catalan President in a video address Wednesday. "What we have seen in Catalonia is an attempt to liquidize national sovereignty," he said in the address, posted to his official Twitter account.
He added that all Spaniards should have a say in what their country looks like.
As the operation got underway, protesters assembled outside the offices of Catalonia's economy ministry in the heart of Barcelona's tourist district, waving posters that read "Freedom for Catalonia" and shouting: "We will vote."
Puigedemont called upon Catalan citizens to "defend democracy against a repressive and intimidating regime" by going to the polls as planned on October 1.
Barcelona's football club said it backed the referendum. It said in a statement posted to its official Twitter account: "In the wake of the events that have transpired in recent days and, especially, today, with regard to the current political situation in Catalonia, FC Barcelona in remaining faithful to its historic commitment to the defence of the nation, to democracy, to freedom of speech, and to self-determination, condemns any act that may impede the free exercise of these rights."
Sumber: http://rss.cnn.com
World News
Tags: #World News