Catalonia referendum result plunges Spain into crisis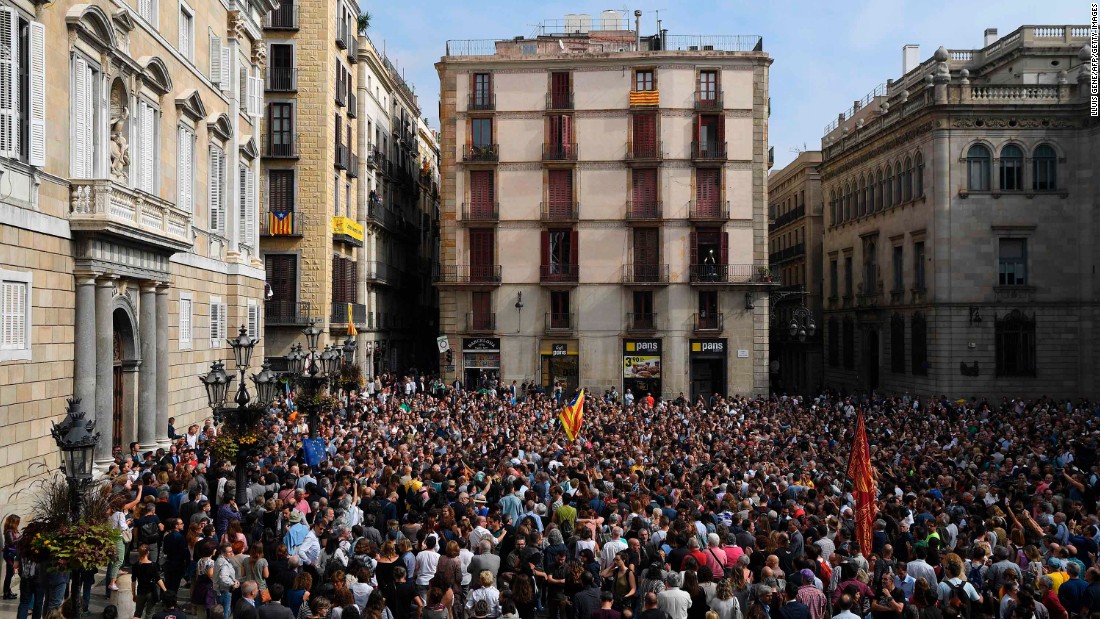 "Police responses must at all times be proportionate and necessary," he said in a statement. "I firmly believe that the current situation should be resolved through political dialogue, with full respect for democratic freedoms," he added.
Trade unions in Catalonia called a strike and a mass demonstration for Tuesday, an action likely to test public support for the Catalan government in the aftermath of Sunday's chaos.
The Spanish government of Mariano Rajoy said it was discussing its response with opposition parties in Madrid.
'No traumatic break'
All eyes were on the Catalan government as it considered its next move. Under the referendum legislation passed by the Catalan parliament, the regional government has 48 hours after the result is finalized to declare independence from Spain. Final votes were still being counted Monday.
/* global CNN, Modernizr */'use strict';CNN.INJECTOR.executeFeature('video').then(function () {CNN.VideoPlayer.handleUnmutePlayer = function handleUnmutePlayer(containerId, dataObj) {'use strict';var playerInstance,playerPropertyObj,rememberTime,unmuteCTA,unmuteIdSelector = 'unmute_' + containerId,isPlayerMute;dataObj = dataObj || {};if (CNN.VideoPlayer.getLibraryName(containerId) === 'fave') {playerInstance = FAVE.player.getInstance(containerId) || null;} else {playerInstance = containerId && window.cnnVideoManager.getPlayerByContainer(containerId).videoInstance.cvp || null;}isPlayerMute = (typeof dataObj.muted === 'boolean') ? dataObj.muted : false;if (CNN.VideoPlayer.playerProperties && CNN.VideoPlayer.playerProperties[containerId]) {playerPropertyObj = CNN.VideoPlayer.playerProperties[containerId];}if (playerPropertyObj.mute && playerPropertyObj.contentPlayed) {if (isPlayerMute === false) {unmuteCTA = jQuery(document.getElementById(unmuteIdSelector));playerInstance.unmute();if (unmuteCTA.length > 0) {unmuteCTA.removeClass('video__unmute–active').addClass('video__unmute–inactive');unmuteCTA.off('click');rememberTime = 0;if (rememberTime 0) {$vidEndSlate.find('.l-container').html('

');$vidEndSlate.removeClass('video__end-slate–inactive').addClass('video__end-slate–active');}};CNN.autoPlayVideoExist = (CNN.autoPlayVideoExist === true) ? true : false;var configObj = {thumb: 'none',video: 'world/2017/10/01/catalonia-spain-independence-referendum-vote-zw-orig.cnn',width: '100%',height: '100%',section: 'domestic',profile: 'expansion',network: 'cnn',markupId: 'body-text_16',adsection: 'const-article-inpage',frameWidth: '100%',frameHeight: '100%',posterImageOverride: {"mini":{"height":124,"width":220,"type":"jpg","uri":"//i2.cdn.cnn.com/cnnnext/dam/assets/171001092936-11-catalonia-referendum-1001-small-169.jpg"},"xsmall":{"height":173,"width":307,"type":"jpg","uri":"//i2.cdn.cnn.com/cnnnext/dam/assets/171001092936-11-catalonia-referendum-1001-medium-plus-169.jpg"},"small":{"height":259,"width":460,"type":"jpg","uri":"//i2.cdn.cnn.com/cnnnext/dam/assets/171001092936-11-catalonia-referendum-1001-large-169.jpg"},"medium":{"height":438,"width":780,"type":"jpg","uri":"//i2.cdn.cnn.com/cnnnext/dam/assets/171001092936-11-catalonia-referendum-1001-exlarge-169.jpg"},"large":{"height":619,"width":1100,"type":"jpg","uri":"//i2.cdn.cnn.com/cnnnext/dam/assets/171001092936-11-catalonia-referendum-1001-super-169.jpg"},"full16x9″:{"height":900,"width":1600,"type":"jpg","uri":"//i2.cdn.cnn.com/cnnnext/dam/assets/171001092936-11-catalonia-referendum-1001-full-169.jpg"},"mini1x1″:{"height":120,"width":120,"type":"jpg","uri":"//i2.cdn.cnn.com/cnnnext/dam/assets/171001092936-11-catalonia-referendum-1001-small-11.jpg"}}},autoStartVideo = false,callbackObj,containerEl,currentVideoCollection = [],currentVideoCollectionId = ",isLivePlayer = false,moveToNextTimeout,mutePlayerEnabled = false,nextVideoId = ",nextVideoUrl = ",turnOnFlashMessaging = false,videoPinner,videoEndSlateImpl;if (CNN.autoPlayVideoExist === false) {autoStartVideo = false;if (autoStartVideo === true) {if (turnOnFlashMessaging === true) {autoStartVideo = false;containerEl = jQuery(document.getElementById(configObj.markupId));CNN.VideoPlayer.showFlashSlate(containerEl);} else {CNN.autoPlayVideoExist = true;}}}configObj.autostart = autoStartVideo;CNN.VideoPlayer.setPlayerProperties(configObj.markupId, autoStartVideo, isLivePlayer, mutePlayerEnabled);CNN.VideoPlayer.setFirstVideoInCollection(currentVideoCollection, configObj.markupId);videoEndSlateImpl = new CNN.VideoEndSlate('body-text_16');/*** Finds the next video ID and URL in the current collection, if available.* @param currentVideoId The video that is currently playing* @param containerId The parent container Id of the video element*/function findNextVideo(currentVideoId) {var i,vidObj;if (currentVideoId && jQuery.isArray(currentVideoCollection) && currentVideoCollection.length > 0) {for (i = 0; i 0) {videoEndSlateImpl.showEndSlateForContainer();}}}callbackObj = {onPlayerReady: function (containerId) {CNN.VideoPlayer.reportLoadTime(containerId);CNN.VideoPlayer.handleInitialExpandableVideoState(containerId);CNN.VideoPlayer.handleAdOnCVPVisibilityChange(containerId, CNN.pageVis.isDocumentVisible());if (Modernizr && !Modernizr.phone && !Modernizr.mobile && !Modernizr.tablet) {var containerClassId = '#' + containerId;if (jQuery(containerClassId).parents('.js-pg-rail-tall__head').length) {videoPinner = new CNN.VideoPinner(containerClassId);videoPinner.init();} else {CNN.VideoPlayer.hideThumbnail(containerId);}}},/** Listen to the metadata event which fires right after the ad ends and the actual video playback begins*/onContentEntryLoad: function(containerId, playerId, contentid, isQueue) {CNN.VideoPlayer.showSpinner(containerId);},onContentMetadata: function (containerId, playerId, metadata, contentId, duration, width, height) {var endSlateLen = jQuery(document.getElementById(containerId)).parent().find('.js-video__end-slate').eq(0).length;CNN.VideoSourceUtils.updateSource(containerId, metadata);if (endSlateLen > 0) {videoEndSlateImpl.fetchAndShowRecommendedVideos(metadata);}},onAdPlay: function (containerId, cvpId, token, mode, id, duration, blockId, adType) {clearTimeout(moveToNextTimeout);CNN.VideoPlayer.hideSpinner(containerId);if (Modernizr && !Modernizr.phone && !Modernizr.mobile && !Modernizr.tablet) {if (typeof videoPinner !== 'undefined' && videoPinner !== null) {videoPinner.setIsPlaying(true);videoPinner.animateDown();}}},onContentPlay: function (containerId, cvpId, event) {var playerInstance,prevVideoId;/** When the video content starts playing, inject analytics data* for Aspen (if enabled) and the companion ad layout* (if it was set when the ad played) should switch back to* epic ad layout. onContentPlay calls updateCompanionLayout* with the 'restoreEpicAds' layout to make this switch*/if (CNN.companion && typeof CNN.companion.updateCompanionLayout === 'function') {CNN.companion.updateCompanionLayout('restoreEpicAds');}clearTimeout(moveToNextTimeout);CNN.VideoPlayer.hideSpinner(containerId);if (CNN.VideoPlayer.getLibraryName(containerId) === 'fave') {playerInstance = FAVE.player.getInstance(containerId) || null;} else {playerInstance = containerId && window.cnnVideoManager.getPlayerByContainer(containerId).videoInstance.cvp || null;}prevVideoId = (window.jsmd && window.jsmd.v && (window.jsmd.v.eVar18 || window.jsmd.v.eVar4)) || ";if (playerInstance && typeof playerInstance.reportAnalytics === 'function') {if (prevVideoId.length === 0 && document.referrer && document.referrer.search(//videos//) >= 0) {prevVideoId = document.referrer.replace(/^(?:http|https)://[^/]/videos/(.+.w+)(?:/video/playlists/.*)?$/, '/video/$1');if (prevVideoId === document.referrer) {prevVideoId = ";}}playerInstance.reportAnalytics('videoPageData', {videoCollection: currentVideoCollectionId,videoBranding: CNN.omniture.branding_content_page,templateType: CNN.omniture.template_type,nextVideo: nextVideoId,previousVideo: prevVideoId,referrerType: ",referrerUrl: document.referrer});}if (Modernizr && !Modernizr.phone && !Modernizr.mobile && !Modernizr.tablet) {if (typeof videoPinner !== 'undefined' && videoPinner !== null) {videoPinner.setIsPlaying(true);videoPinner.animateDown();}}},onContentReplayRequest: function (containerId, cvpId, contentId) {if (Modernizr && !Modernizr.phone && !Modernizr.mobile && !Modernizr.tablet) {if (typeof videoPinner !== 'undefined' && videoPinner !== null) {videoPinner.setIsPlaying(true);var $endSlate = jQuery(document.getElementById(containerId)).parent().find('.js-video__end-slate').eq(0);if ($endSlate.length > 0) {$endSlate.removeClass('video__end-slate–active').addClass('video__end-slate–inactive');}}}},onContentBegin: function (containerId, cvpId, contentId) {CNN.VideoPlayer.mutePlayer(containerId);if (CNN.companion && typeof CNN.companion.updateCompanionLayout === 'function') {CNN.companion.updateCompanionLayout('removeEpicAds');}CNN.VideoPlayer.hideSpinner(containerId);clearTimeout(moveToNextTimeout);CNN.VideoSourceUtils.clearSource(containerId);jQuery(document).triggerVideoContentStarted();},onContentComplete: function (containerId, cvpId, contentId) {if (CNN.companion && typeof CNN.companion.updateCompanionLayout === 'function') {CNN.companion.updateCompanionLayout('restoreFreewheel');}navigateToNextVideo(contentId, containerId);},onContentEnd: function (containerId, cvpId, contentId) {if (Modernizr && !Modernizr.phone && !Modernizr.mobile && !Modernizr.tablet) {if (typeof videoPinner !== 'undefined' && videoPinner !== null) {videoPinner.setIsPlaying(false);}}},onCVPVisibilityChange: function (containerId, cvpId, visible) {CNN.VideoPlayer.handleAdOnCVPVisibilityChange(containerId, visible);}};if (typeof configObj.context !== 'string' || configObj.context.length 0) {configObj.adsection = window.ssid;}CNN.autoPlayVideoExist = (CNN.autoPlayVideoExist === true) ? true : false;CNN.VideoPlayer.getLibrary(configObj, callbackObj, isLivePlayer);});/* videodemanddust is a default feature of the injector */CNN.INJECTOR.scriptComplete('videodemanddust');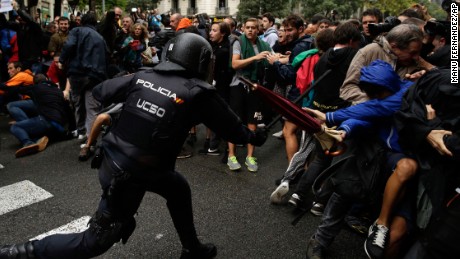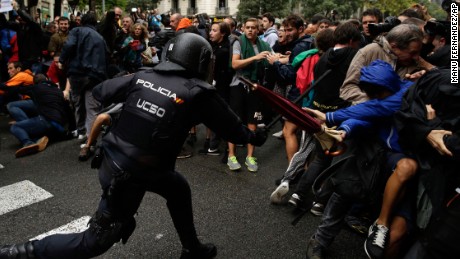 JUST WATCHED

Hundreds injured in Spain after referendum
MUST WATCH
{"@context": "https://schema.org","@type": "VideoObject","name": "Hundreds injured in Spain after referendum","description": "Spanish national police raided polling stations and used batons to beat back voters in an attempt to delegitimize Catalonia's independence referendum.","thumbnailURL": "http://i2.cdn.cnn.com/cnnnext/dam/assets/171001092936-11-catalonia-referendum-1001-large-169.jpg","image": "http://i2.cdn.cnn.com/cnnnext/dam/assets/171001092936-11-catalonia-referendum-1001-large-169.jpg","duration": "PT1M6S","uploadDate": "2017-10-01T21:49:02Z","contentUrl": "http://www.cnn.com/videos/world/2017/10/01/catalonia-spain-independence-referendum-vote-zw-orig.cnn","url": "http://www.cnn.com/videos/world/2017/10/01/catalonia-spain-independence-referendum-vote-zw-orig.cnn","embedUrl": "http://fave.api.cnn.io/v1/fav/?video=world/2017/10/01/catalonia-spain-independence-referendum-vote-zw-orig.cnn&customer=cnn&edition=domestic&env=prod"}
Sumber: http://rss.cnn.com
World News
Related
Tags: #World News