Citizens band together to get mainland help to Puerto Rico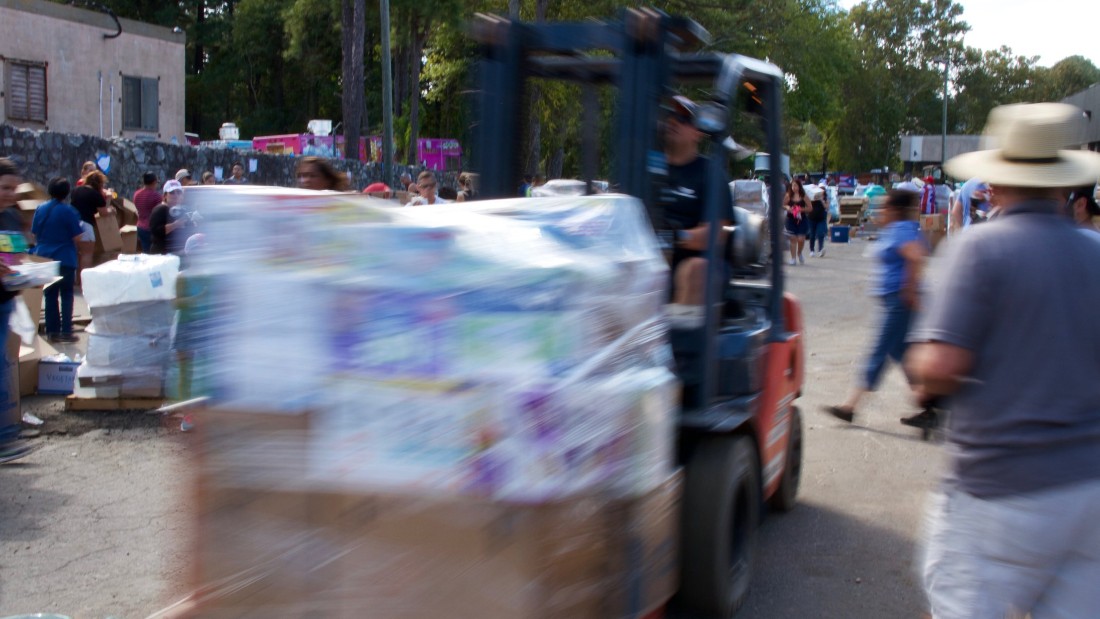 The group is really not much more than Puerto Ricans living in Atlanta; they're restaurant owners, local business leaders and private individuals. The common denominator is their drive to help families back home.
Arroyo is one of the people arranging everything, from collecting and stockpiling supplies to transporting the goods.
"We have worked with U-Haul to store some of our donations," she explained, and "an anonymous commercial airline donated space on two flights for our supplies."
Arroyo said the group also "reached out to the office of the governor and first lady to make sure our supplies were going to be properly received and distributed."
"I didn't want our supplies to get stuck at the airport or the ports," she said.
/* global CNN, Modernizr */'use strict';CNN.INJECTOR.executeFeature('video').then(function () {CNN.VideoPlayer.handleUnmutePlayer = function handleUnmutePlayer(containerId, dataObj) {'use strict';var playerInstance,playerPropertyObj,rememberTime,unmuteCTA,unmuteIdSelector = 'unmute_' + containerId,isPlayerMute;dataObj = dataObj || {};if (CNN.VideoPlayer.getLibraryName(containerId) === 'fave') {playerInstance = FAVE.player.getInstance(containerId) || null;} else {playerInstance = containerId && window.cnnVideoManager.getPlayerByContainer(containerId).videoInstance.cvp || null;}isPlayerMute = (typeof dataObj.muted === 'boolean') ? dataObj.muted : false;if (CNN.VideoPlayer.playerProperties && CNN.VideoPlayer.playerProperties[containerId]) {playerPropertyObj = CNN.VideoPlayer.playerProperties[containerId];}if (playerPropertyObj.mute && playerPropertyObj.contentPlayed) {if (isPlayerMute === false) {unmuteCTA = jQuery(document.getElementById(unmuteIdSelector));playerInstance.unmute();if (unmuteCTA.length > 0) {unmuteCTA.removeClass('video__unmute–active').addClass('video__unmute–inactive');unmuteCTA.off('click');rememberTime = 0;if (rememberTime 0) {$vidEndSlate.find('.l-container').html('

');$vidEndSlate.removeClass('video__end-slate–inactive').addClass('video__end-slate–active');}};CNN.autoPlayVideoExist = (CNN.autoPlayVideoExist === true) ? true : false;var configObj = {thumb: 'none',video: 'cnnmoney/2017/09/28/puerto-rico-port-shipping-container-supplies.cnn',width: '100%',height: '100%',section: 'domestic',profile: 'expansion',network: 'cnn',markupId: 'body-text_14',adsection: 'cnn.com_specialreports_impact_world_inpage',frameWidth: '100%',frameHeight: '100%',posterImageOverride: {"mini":{"height":124,"width":220,"type":"jpg","uri":"//i2.cdn.cnn.com/cnnnext/dam/assets/170928104414-puerto-rico-port-relief-supplies-small-169.png"},"xsmall":{"height":173,"width":307,"type":"jpg","uri":"//i2.cdn.cnn.com/cnnnext/dam/assets/170928104414-puerto-rico-port-relief-supplies-medium-plus-169.png"},"small":{"height":259,"width":460,"type":"jpg","uri":"//i2.cdn.cnn.com/cnnnext/dam/assets/170928104414-puerto-rico-port-relief-supplies-large-169.png"},"medium":{"height":438,"width":780,"type":"jpg","uri":"//i2.cdn.cnn.com/cnnnext/dam/assets/170928104414-puerto-rico-port-relief-supplies-exlarge-169.png"},"large":{"height":619,"width":1100,"type":"jpg","uri":"//i2.cdn.cnn.com/cnnnext/dam/assets/170928104414-puerto-rico-port-relief-supplies-super-169.png"},"full16x9″:{"height":900,"width":1600,"type":"jpg","uri":"//i2.cdn.cnn.com/cnnnext/dam/assets/170928104414-puerto-rico-port-relief-supplies-full-169.png"},"mini1x1″:{"height":120,"width":120,"type":"jpg","uri":"//i2.cdn.cnn.com/cnnnext/dam/assets/170928104414-puerto-rico-port-relief-supplies-small-11.png"}}},autoStartVideo = false,callbackObj,containerEl,currentVideoCollection = [],currentVideoCollectionId = ",isLivePlayer = false,moveToNextTimeout,mutePlayerEnabled = false,nextVideoId = ",nextVideoUrl = ",turnOnFlashMessaging = false,videoPinner,videoEndSlateImpl;if (CNN.autoPlayVideoExist === false) {autoStartVideo = false;if (autoStartVideo === true) {if (turnOnFlashMessaging === true) {autoStartVideo = false;containerEl = jQuery(document.getElementById(configObj.markupId));CNN.VideoPlayer.showFlashSlate(containerEl);} else {CNN.autoPlayVideoExist = true;}}}configObj.autostart = autoStartVideo;CNN.VideoPlayer.setPlayerProperties(configObj.markupId, autoStartVideo, isLivePlayer, mutePlayerEnabled);CNN.VideoPlayer.setFirstVideoInCollection(currentVideoCollection, configObj.markupId);videoEndSlateImpl = new CNN.VideoEndSlate('body-text_14');/*** Finds the next video ID and URL in the current collection, if available.* @param currentVideoId The video that is currently playing* @param containerId The parent container Id of the video element*/function findNextVideo(currentVideoId) {var i,vidObj;if (currentVideoId && jQuery.isArray(currentVideoCollection) && currentVideoCollection.length > 0) {for (i = 0; i 0) {videoEndSlateImpl.showEndSlateForContainer();}}}callbackObj = {onPlayerReady: function (containerId) {CNN.VideoPlayer.reportLoadTime(containerId);CNN.VideoPlayer.handleInitialExpandableVideoState(containerId);CNN.VideoPlayer.handleAdOnCVPVisibilityChange(containerId, CNN.pageVis.isDocumentVisible());if (Modernizr && !Modernizr.phone && !Modernizr.mobile && !Modernizr.tablet) {var containerClassId = '#' + containerId;if (jQuery(containerClassId).parents('.js-pg-rail-tall__head').length) {videoPinner = new CNN.VideoPinner(containerClassId);videoPinner.init();} else {CNN.VideoPlayer.hideThumbnail(containerId);}}},/** Listen to the metadata event which fires right after the ad ends and the actual video playback begins*/onContentEntryLoad: function(containerId, playerId, contentid, isQueue) {CNN.VideoPlayer.showSpinner(containerId);},onContentMetadata: function (containerId, playerId, metadata, contentId, duration, width, height) {var endSlateLen = jQuery(document.getElementById(containerId)).parent().find('.js-video__end-slate').eq(0).length;CNN.VideoSourceUtils.updateSource(containerId, metadata);if (endSlateLen > 0) {videoEndSlateImpl.fetchAndShowRecommendedVideos(metadata);}},onAdPlay: function (containerId, cvpId, token, mode, id, duration, blockId, adType) {clearTimeout(moveToNextTimeout);CNN.VideoPlayer.hideSpinner(containerId);if (Modernizr && !Modernizr.phone && !Modernizr.mobile && !Modernizr.tablet) {if (typeof videoPinner !== 'undefined' && videoPinner !== null) {videoPinner.setIsPlaying(true);videoPinner.animateDown();}}},onContentPlay: function (containerId, cvpId, event) {var playerInstance,prevVideoId;/** When the video content starts playing, inject analytics data* for Aspen (if enabled) and the companion ad layout* (if it was set when the ad played) should switch back to* epic ad layout. onContentPlay calls updateCompanionLayout* with the 'restoreEpicAds' layout to make this switch*/if (CNN.companion && typeof CNN.companion.updateCompanionLayout === 'function') {CNN.companion.updateCompanionLayout('restoreEpicAds');}clearTimeout(moveToNextTimeout);CNN.VideoPlayer.hideSpinner(containerId);if (CNN.VideoPlayer.getLibraryName(containerId) === 'fave') {playerInstance = FAVE.player.getInstance(containerId) || null;} else {playerInstance = containerId && window.cnnVideoManager.getPlayerByContainer(containerId).videoInstance.cvp || null;}prevVideoId = (window.jsmd && window.jsmd.v && (window.jsmd.v.eVar18 || window.jsmd.v.eVar4)) || ";if (playerInstance && typeof playerInstance.reportAnalytics === 'function') {if (prevVideoId.length === 0 && document.referrer && document.referrer.search(//videos//) >= 0) {prevVideoId = document.referrer.replace(/^(?:http|https)://[^/]/videos/(.+.w+)(?:/video/playlists/.*)?$/, '/video/$1');if (prevVideoId === document.referrer) {prevVideoId = ";}}playerInstance.reportAnalytics('videoPageData', {videoCollection: currentVideoCollectionId,videoBranding: CNN.omniture.branding_content_page,templateType: CNN.omniture.template_type,nextVideo: nextVideoId,previousVideo: prevVideoId,referrerType: ",referrerUrl: document.referrer});}if (Modernizr && !Modernizr.phone && !Modernizr.mobile && !Modernizr.tablet) {if (typeof videoPinner !== 'undefined' && videoPinner !== null) {videoPinner.setIsPlaying(true);videoPinner.animateDown();}}},onContentReplayRequest: function (containerId, cvpId, contentId) {if (Modernizr && !Modernizr.phone && !Modernizr.mobile && !Modernizr.tablet) {if (typeof videoPinner !== 'undefined' && videoPinner !== null) {videoPinner.setIsPlaying(true);var $endSlate = jQuery(document.getElementById(containerId)).parent().find('.js-video__end-slate').eq(0);if ($endSlate.length > 0) {$endSlate.removeClass('video__end-slate–active').addClass('video__end-slate–inactive');}}}},onContentBegin: function (containerId, cvpId, contentId) {CNN.VideoPlayer.mutePlayer(containerId);if (CNN.companion && typeof CNN.companion.updateCompanionLayout === 'function') {CNN.companion.updateCompanionLayout('removeEpicAds');}CNN.VideoPlayer.hideSpinner(containerId);clearTimeout(moveToNextTimeout);CNN.VideoSourceUtils.clearSource(containerId);jQuery(document).triggerVideoContentStarted();},onContentComplete: function (containerId, cvpId, contentId) {if (CNN.companion && typeof CNN.companion.updateCompanionLayout === 'function') {CNN.companion.updateCompanionLayout('restoreFreewheel');}navigateToNextVideo(contentId, containerId);},onContentEnd: function (containerId, cvpId, contentId) {if (Modernizr && !Modernizr.phone && !Modernizr.mobile && !Modernizr.tablet) {if (typeof videoPinner !== 'undefined' && videoPinner !== null) {videoPinner.setIsPlaying(false);}}},onCVPVisibilityChange: function (containerId, cvpId, visible) {CNN.VideoPlayer.handleAdOnCVPVisibilityChange(containerId, visible);}};if (typeof configObj.context !== 'string' || configObj.context.length 0) {configObj.adsection = window.ssid;}CNN.autoPlayVideoExist = (CNN.autoPlayVideoExist === true) ? true : false;CNN.VideoPlayer.getLibrary(configObj, callbackObj, isLivePlayer);});/* videodemanddust is a default feature of the injector */CNN.INJECTOR.scriptComplete('videodemanddust');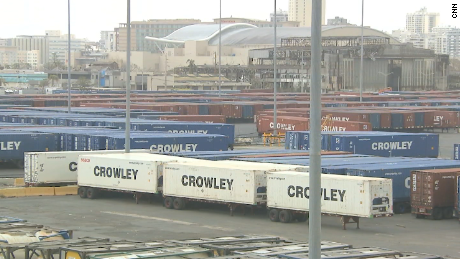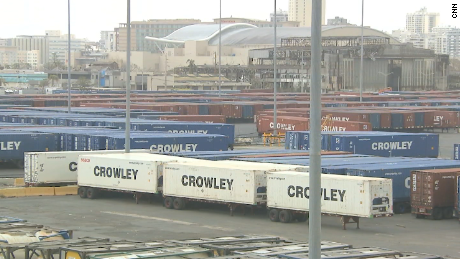 JUST WATCHED

Relief supplies stuck at Puerto Rico port
MUST WATCH
{"@context": "https://schema.org","@type": "VideoObject","name": "Relief supplies stuck at Puerto Rico port","description": "CNN Español's Maria Santana talks with Jose Ayala, Vice President and General Manager of Crowley about the relief supplies that are stuck in shipping containers at the port in Puerto Rico because of problems in the supply chain of fuel and drivers.","thumbnailURL": "http://i2.cdn.cnn.com/cnnnext/dam/assets/170928104414-puerto-rico-port-relief-supplies-large-169.png","image": "http://i2.cdn.cnn.com/cnnnext/dam/assets/170928104414-puerto-rico-port-relief-supplies-large-169.png","duration": "PT2M13S","uploadDate": "2017-09-28T14:47:13Z","contentUrl": "http://www.cnn.com/videos/cnnmoney/2017/09/28/puerto-rico-port-shipping-container-supplies.cnn","url": "http://www.cnn.com/videos/cnnmoney/2017/09/28/puerto-rico-port-shipping-container-supplies.cnn","embedUrl": "http://fave.api.cnn.io/v1/fav/?video=cnnmoney/2017/09/28/puerto-rico-port-shipping-container-supplies.cnn&customer=cnn&edition=domestic&env=prod"}
Sumber: http://rss.cnn.com
World News
Related
Tags: #World News