Did Kim Kardashian Confirm Pregnancy News for Her, Khloe and Kylie With Past Photo?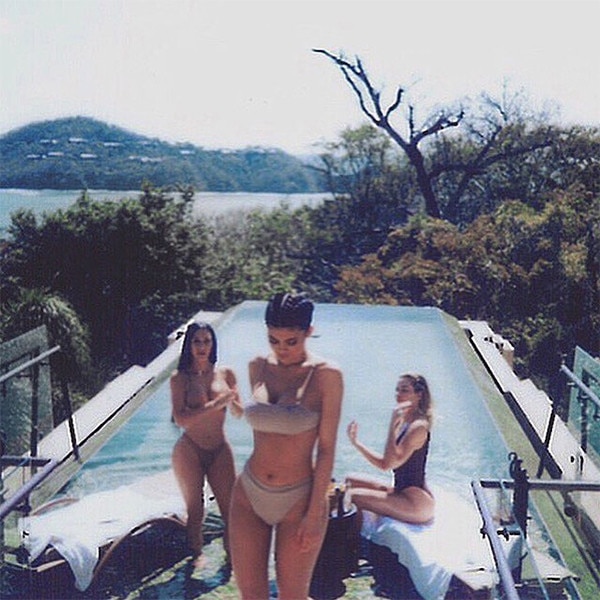 Kim Kardashian, did you do what we think you did?
It's apparently a baby boom for the Kardashian-Jenner family, as the reality star recently revealed she and Kanye West are expecting their third child—reportedly via surrogate, multiple sources recently told E! News that Khloe Kardashian, 33, is expecting her first baby with boyfriend Tristan Thompson and many recent reports have said youngest sister Kylie Jenner, 20, is pregnant with her first child with boyfriend Travis Scott, although when asked about it, their mom Kris Jenner told Ryan Seacrest, "Kylie's not confirming anything."
But did Kim let the cat out of the bag on all three pieces of pregnancy news weeks ago in a nonchalant Instagram post?
On September 3, she shared a throwback photo of her, Khloe and Kylie wearing swimsuits and appearing by a pool during a January trip to Costa Rica. It shows Khloe sitting down, Kim standing and looking at the camera and Kylie standing and looking down. Kim's caption certainly raises eyebrows now, taking into account what has been reported in recent days.
"The 3 of us…" she wrote.
While they have also not confirmed they are expecting, Khloe and Tristan had themselves dropped pregnancy rumors on social media recently.
Watch the season 14 premiere of Keeping Up With the Kardashians Sunday at 9 p.m., only on E!
Sumber: http://www.eonline.com
Eonline
Tags: #Eonline