Jimmy Kimmel Returns With an NBA Edition of Mean Tweets–and Shaquille O'Neal Has One Thing to Say Back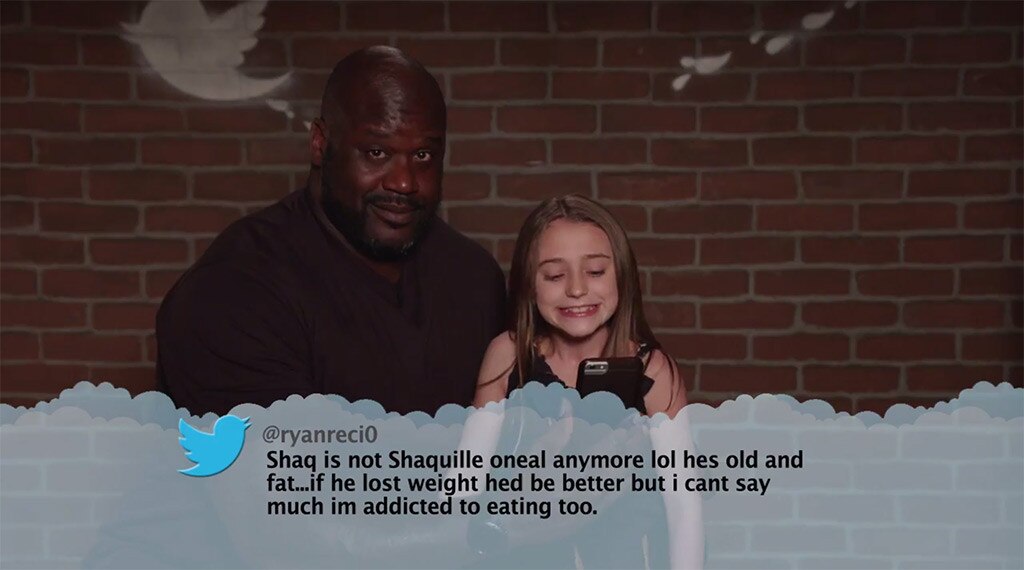 These basketball players are trading turnovers for Twitter. 
In honor of a new edition of Jimmy Kimmel Live's #MeanTweets airing Thursday night, the show gave fans a sneak peek of the segment hours earlier. Spoiler alert: the gaffes are definitely slam dunks. 
James Harden kicked off the segment with a frown. "James Harden always looks like he's just about to lead the Israelites through the Red Sea," a critic wrote of the Houston Rockets shooting guard. 
While it didn't get a chuckle out of Harden, Los Angeles Clippers center DeAndre Jordan couldn't help but crack up at one naysayer. "I bet DeAndre Jordan is so bad at free throws because his eyes are so close together," a tweet read. 
"These people are mean," he quipped. 
Shaquille O'Neal completed the preview with a response to his weight. 
"Shaq is not Shaquille O'Neal anymore," the tweet began. "He's old and fat…if he lost weight he'd be better, but I can't say much. I'm addicted to eating, too."
The basketball superstar had one thing to say in return: "Fat boys gotta stick together!"
Check out the clip above and stay tuned for the full segment tonight!
Sumber: http://www.eonline.com
Eonline
Tags: #Eonline