Lisa Bloom Resigns as Advisor to Harvey Weinstein Amid Sexual Harassment Allegations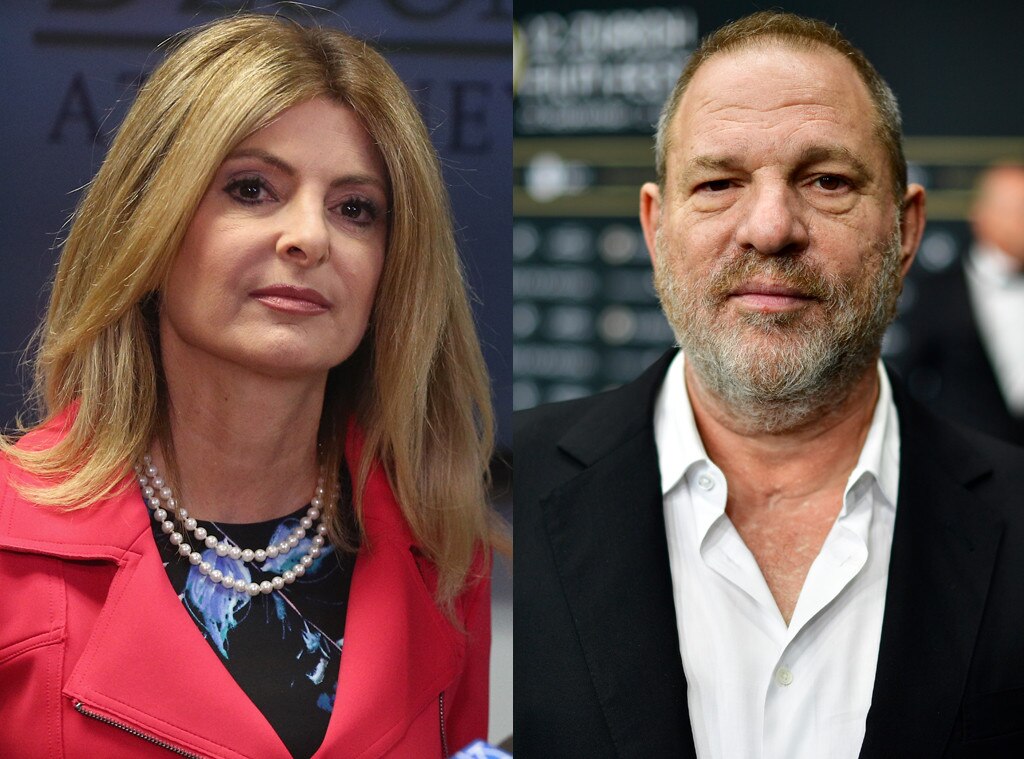 Lisa Bloom says she will no longer serve as an advisor to Harvey Weinstein, who has been accused of sexual harassment.
As the attorney is known for representing women who have accused famous men, such asBill Cosby and President Donald Trump, of sexual and other types of assault and harassment, many people were shocked when she announced on Thursday she is serving as Harvey's advisor, soon after the The New York Times published a report that states the 65-year-old Oscar-winning producer, one of the most powerful men in Hollywood was the target of sexual harassment complaints. He has not been charged with any crimes.
"I have resigned as an advisor to Harvey Weinstein," Lisa tweeted early Saturday. "My understanding is that Mr. Weinstein and his board are moving toward an agreement."
The New York Times had said that Harvey reached eight settlements with women who made allegations of past sexual harassment and unwanted physical contact.
In an initial statement, Harvey said, "I appreciate the way I've behaved with colleagues in the past has caused a lot of pain, and I sincerely apologize for it." He also said, "I've brought on therapists and I plan to take a leave of absence from my company and to deal with this issue head on." 
The newspaper said Bloom has been advising Harvey over the last year on gender and power dynamics. In a statement posted on Twitter on Thursday, Lisa confirmed she is serving as his advisor and disclosed that "as we work together on a project bringing my book to the screen, he has always been respectful toward me."
Lisa had announced on Twitter in April that Harvey is co-producing a miniseries based on her 2014 book Suspicion Nation, which is about the 2012 killing of Trayvon Martin.
Bloom said in her statement on Thursday that while Harvey "denies many of the accusations as patently false," she has "explained to him and most others in the industry, whatever his motives, some of his words and behaviors can be perceived as inappropriate, even intimidating."
"As a women's rights advocate, I have been blunt with Harvey and he has listened to me," she wrote. "I have told him that times have changed, it is 2017, and he needs to evolve to a higher standard. I have found Harvey to be refreshingly candid and receptive to my message. He has acknowledged mistakes he has made. He is reading books and going to therapy. He is an old dinosaur learning new ways. He wants to reach out to any of the women who may have issues with him to talk to them in a respectful, peaceful way, with me present if that is acceptable to them."
Bloom had said on Good Morning America this week, "What Harvey Weinstein has done is wrong," she said. "He has caused pain. He's said that…I think he has changed in the year I've known him."
Bloom also said in her Twitter statement on Thursday that Harvey asked her to "do a comprehensive review of his company's policies and practices regarding women in the workplace" and that she would "make recommendations to ensure that gender equality and zero tolerance for workplace misconduct aren't just goals, but a reality."
After the New York Times story was published, The Huffington Post reported that a decade ago, Harvey exposed himself and sexually harassed Lauren Sivan, then a news anchor on a local New York cable channel, outside a workplace—specifically in a restaurant that was closed to the public. The outlet said Harvey's reps had no immediate comment.
Despite his public apology, Harvey still plans to sue The New York Times for an estimated $50 million over its story. One of his attorneys said the article is "saturated with false and defamatory statements." 
The Weinstein Company announced that amid Harvey will take an indefinite leave of absence as the board launches an independent investigation.
"As Harvey has said, it is important for him to get professional help for the problems he has acknowledged," the company said in a statement. Next steps will depend on Harvey's therapeutic progress, the outcome of the Board's independent investigation, and Harvey's own personal decisions."
His brother Bob Weinstein, a co-chairman, and chief operating officer David Glasser will lead the company in Harvey's absence.
Sumber: http://www.eonline.com
Eonline
Tags: #Eonline