Macron sets out grand plan to relaunch 'weak and slow' European Union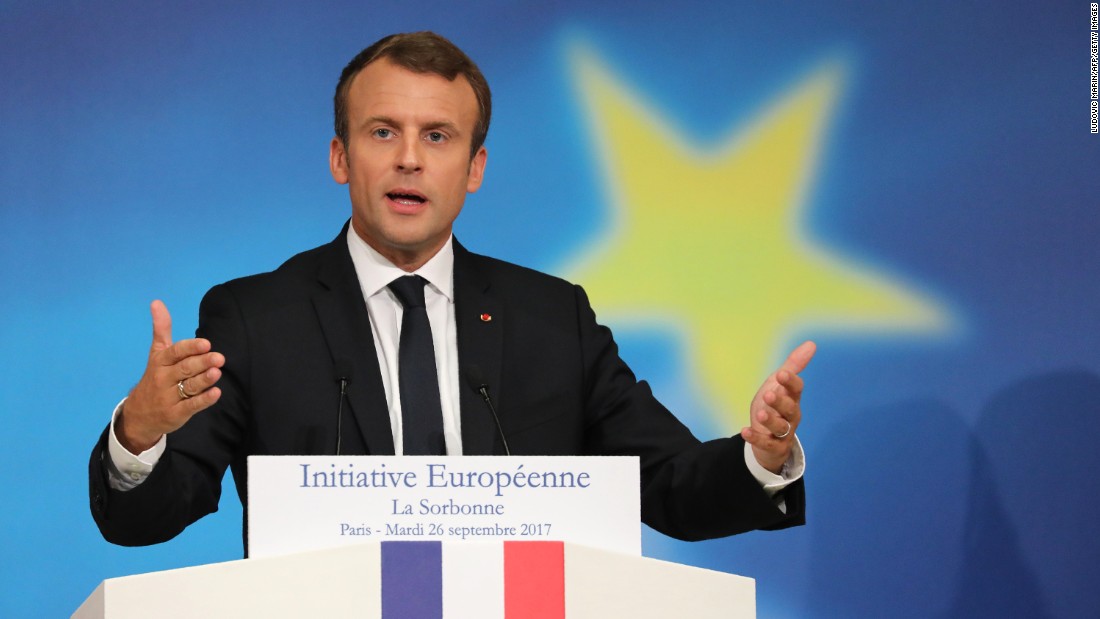 Merkel's conservative Christian Democratic Union party and its sister grouping, the Christian Social Union, obtained just 33% of the vote and will need to forge a deal with other parties to govern. The CDU was already resistant to handing more budgetary powers to Brussels. One of her likely coalition partners, the pro-business FDP, is even more hostile to the idea.
In his speech, Macron called for a single EU corporate tax band by 2020, saying members who refused to implement it should have their aid from Brussels cut.
Macron urged reform of the controversial Common Agricultural Policy farm subsidy system, including tougher measures to fight fraud within it. Traditionally, France has been the biggest beneficiary and staunch defender of the CAP.
He also suggested an increase in development aid for Africa, which he said should no longer be treated as a problem "but as a partner."
He proposed to finance this by extending the UK's system of taxing property transactions, known as stamp duty. to across the EU and increasing taxes on carbon fuels as a means of transforming the economic model to a more environmentally friendly system.
"The only path that assures our future is the rebuilding of a Europe that is sovereign, united and democratic," Macron said.
The French President's speech echoed one given 25 years ago by former EU Commission President and architect of the single market Jacques Delors.
It was lauded by European Commission President Jean-Claude Juncker, who said the EU needed "courage" to move forward.
"A very European speech by my friend Emmanuel Macron. Europe needs courage. Thank you for your support for the work of the EU institutions," Juncker, the head of the EU's executive arm, said on Twitter.
Marcon suggested the UK might want to rejoin the EU after his grand plan had been pushed through: "In a few years, if they want, the United Kingdom could find its place… In this reformed and simplified EU that I'm proposing, I can't imagine that the United Kingdom could not find its place."
Sumber: http://rss.cnn.com
World News
Tags: #World News