MTV Video Music Awards 2017: The winners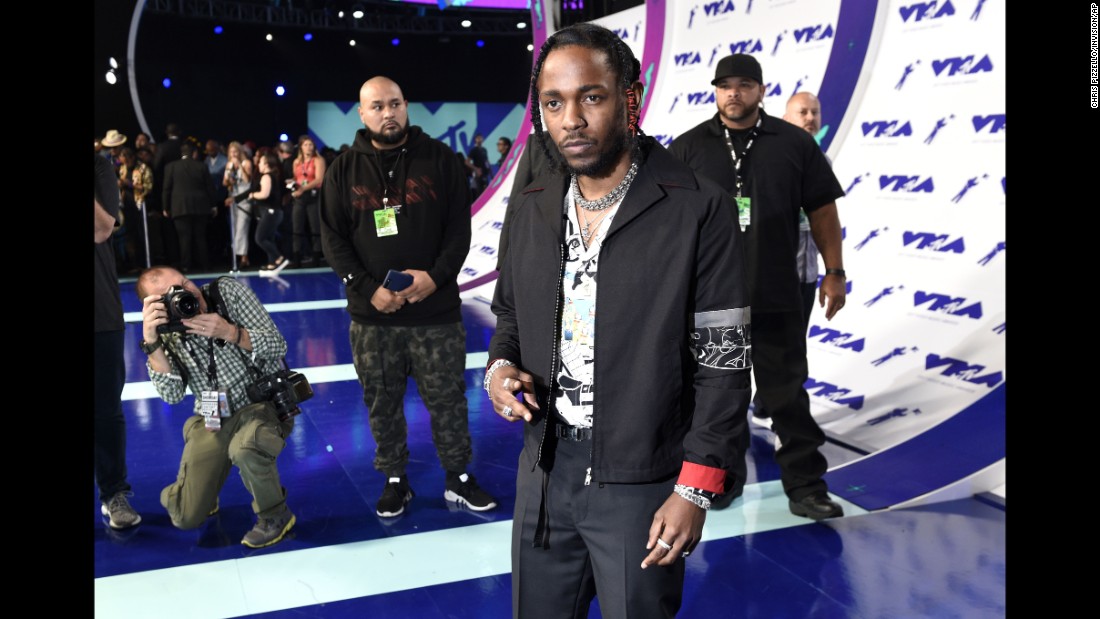 "Let's leave here tonight remembering that we must show these Nazi, white supremacist jerks in Charlottesville and all over the country that as a nation with 'liberty' as our slogan, we have zero tolerance for their violence, their hatred and their discrimination," she said. "We must resist."
The best pop video award went to Fifth Harmony for "Down."
Jackson's remarks were just part of the political tone of the night.
Rev. Robert Wright Lee IV, a 24-year-old pastor and a descendent Confederate general Robert E. Lee, appeared to speak out against racial injustice.
"We have made my ancestor an idol of white supremacy, racism and hate," Lee said. "As a pastor it is my moral duty to speak out against racism, America's original sin."
He called on "all of us with privilege and power to answer God's call to confront racism and white supremacy head-on."
Lee then introduced Susan Bro, mother of Heather Heyer, who was killed in Charlottesville while marching as a counter-protestor against a white supremacist rally seeking to stop the removal of the statue of General Robert E. Lee.
Bro spoke of missing her daughter and announced the launch of a foundation named in honor of Heyer.
"I want people to know Heather never marched alone," Bro said. "She was always joined by people from every race and every background in this country."
In that spirit, Bro said, MTV decided to honor all six of the videos nominated for the new category of best fight against the system.
Perhaps the most anticipated moment of the show arrived with the premiere of Taylor Swift's music video for her new single "Look What You Made Me Do."
The video was a much darker look for Swift, who appeared in it as different versions of herself, including as a zombie with snakes.
Swift isn't the only one to have undergone a transformation.
The iconic "Moonman" trophy handed out Sunday is now a "Moon Person."
That type of sentiment was shared by Pink, who accepted the Michael Jackson Video Vanguard Award.
The singer performed a mix of some of her biggest hits, along with her new single "What About Us."
She closed her performance with a diverse group of backup dancers and held their raised hands in triumph.
During her acceptance speech, Pink told the story of her six-year-old daughter feeling unattractive because she believed she looked like a boy. The singer said she used it as a teachable moment to discuss androgynous artists who have found success, including herself.
"Baby girl we don't change, we take the gravel in the shell and we make a pearl," Pink said. "And we help other people to change so that they can see more kinds of beauty. To all the artists here, I am so inspired by all of you. Thank you for being your true selves."
The speech was one of the highlights of the night based on social media reaction, as was Jared Leto's tribute to Linkin Park singer Chester Bennington.
Less popular with social media was Perry's hosting skills.
The "Roar" singer was soundly roasted for her skits and jokes, some of which fell flat.
var id = '//platform.twitter.com/widgets.js'.replace(/s+/g, ");!!document.getElementById(id) || (function makeEmbedScript(d, id) {var js,fjs;js = d.createElement('script');js.id = id;js.charset = 'utf-8';js.setAttribute('async', ");fjs = d.getElementsByTagName('script')[0];fjs.parentNode.insertBefore(js, fjs);js.src = '//platform.twitter.com/widgets.js';}(document, id));
var id = '//platform.twitter.com/widgets.js'.replace(/s+/g, ");!!document.getElementById(id) || (function makeEmbedScript(d, id) {var js,fjs;js = d.createElement('script');js.id = id;js.charset = 'utf-8';js.setAttribute('async', ");fjs = d.getElementsByTagName('script')[0];fjs.parentNode.insertBefore(js, fjs);js.src = '//platform.twitter.com/widgets.js';}(document, id));
var id = '//platform.twitter.com/widgets.js'.replace(/s+/g, ");!!document.getElementById(id) || (function makeEmbedScript(d, id) {var js,fjs;js = d.createElement('script');js.id = id;js.charset = 'utf-8';js.setAttribute('async', ");fjs = d.getElementsByTagName('script')[0];fjs.parentNode.insertBefore(js, fjs);js.src = '//platform.twitter.com/widgets.js';}(document, id));
Here's a list of some of the night's winners:
Best Pop Video
Shawn Mendes – "Treat You Better"
Ed Sheeran – "Shape of You"
Harry Styles – "Sign Of The Times"
Fifth Harmony ft. Gucci Mane – "Down" – WINNER
Katy Perry ft. Skip Marley – "Chained To The Rhythm"
Miley Cyrus – "Malibu"
Best Dance Video
Afrojack ft. Ty Dolla $ign – "Gone"
Calvin Harris – "My Way"
Kygo x Selena Gomez – "It Ain't Me"
Major Lazer ft. Justin Bieber and MØ – "Cold Water"
Zedd and Alessia Cara – "Stay" – WINNER
Best Collaboration Video
Charlie Puth ft. Selena Gomez – "We Don't Talk Anymore"
DJ Khaled ft. Rihanna & Bryson Tiller – "Wild Thoughts"
D.R.A.M. ft. Lil Yachty – "Broccoli"
The Chainsmokers ft. Halsey – "Closer"
Calvin Harris ft. Pharrell Williams, Katy Perry & Big Sean – "Feels"
Zayn & Taylor Swift – "I Don't Wanna Live Forever (Fifty Shades Darker)" – WINNER
Best Hip Hop Video
Chance the Rapper – "Same Drugs"
DJ Khaled ft. Justin Bieber, Quavo, Chance the Rapper & Lil Wayne – "I'm The One"
D.R.A.M. ft. Lil Yachty – "Broccoli"
Kendrick Lamar – "HUMBLE." – WINNER
Big Sean – "Bounce Back"
Migos ft. Lil Uzi Vert – "Bad & Boujee"
Best New Artist
Julia Michaels
Khalid – WINNER
Kodak Black
Noah Cyrus
SZA
Young M.A
Song of Summer
Camila Cabello Feat. Quavo – "OMG"
Daddy Yankee and Luis Fonsi, Feat. Justin Bieber – "Despacito (Remix)"
DJ Khaled Feat. Rihanna and Bryson Tiller – "Wild Thoughts"
Fifth Harmony Feat. Gucci Mane – "Down" Ed Sheeran – "Shape of You"
Demi Lovato – "Sorry Not Sorry"
Shawn Mendes – "There's Nothing Holding Me Back"
Lil Uzi Vert – "XO Tour Llif3" – WINNER
Video of the Year
Alessia Cara – "Scars To Your Beautiful"
Bruno Mars – "24K Magic"
DJ Khaled ft. Rihanna & Bryson Tiller – "Wild Thoughts"
Kendrick Lamar – "HUMBLE." – WINNER
The Weeknd – "Reminder"
Artist of the Year
Ariana Grande
Bruno Mars
Kendrick Lamar
Lorde
Ed Sheeran – WINNER
The Weeknd
Best Fight Against the System
Logic ft. Damian Lemar Hudson – "Black SpiderMan" – WINNER
The Hamilton Mixtape – "Immigrants (We Get the Job Done)" – WINNER
Big Sean – "Light" – WINNER
Alessia Cara – "Scars To Your Beautiful" – WINNER
Taboo ft. Shailene Woodley – "Stand Up / Stand N Rock #NoDAPL" – WINNER
John Legend – "Surefire" – WINNER
Sumber: http://rss.cnn.com
World News
Tags: #World News