Paris Jackson Congratulates "Badass" Mom Debbie Rowe on Completing Chemotherapy Treatment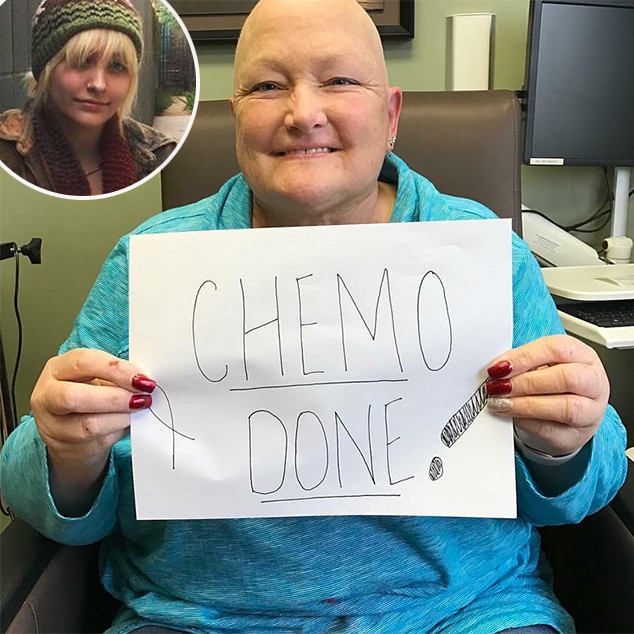 Debbie Rowe is feeling the love from her only daughter. 
Paris Jackson, 18, took to Instagram Tuesday with a message for her father Michael Jackson's ex-wife, who is currently battling breast cancer. "my badass mom, kickin butt n takin names. ain't she f–kin fabulous????" Paris wrote alongside a snapshot of Rowe, 58, holding a sign that read, "Chemo Done!" 
Paris and Debbie's relationship has seen its fair share of ups and downs over the years, but the two reportedly reconnected when Rowe's cancer diagnosis went public over the summer. In October, Paris was right by her mother's side when she began chemotherapy treatment, sharing a heartwarming photo of the duo embracing each other. 
Jackson captioned the moment, "I'm a fighter because she's a fighter. Love you mom."
Prior to this, the mother-daughter duo had not been photographed publicly together since 2013. Paris and her older brother Prince Michael, whose mother is also Debbie, were previously under the guardianship of the King of Pop's mother, Katherine Jackson, following his death in 2009. 
"[Paris] is my rock, she's amazing," Rowe explained to Entertainment Tonight in a sit-down interview from October. "She's been with me the whole time. She was there. First phone call, [it] took her 30 seconds [to reach out] when she found out."
The former nurse has remained mostly out of the spotlight following her highly-publicized child custody battle against Katherine that ultimately settled in 2009. Paris, on the other hand, has remained an extremely outspoken figure on social media and continues to honor her late father years after his passing. 
Sumber: http://www.eonline.com
Eonline
Tags: #Eonline