Pop Gets Personal: Inside 2017's Unexpected Resurgence of the Music Documentary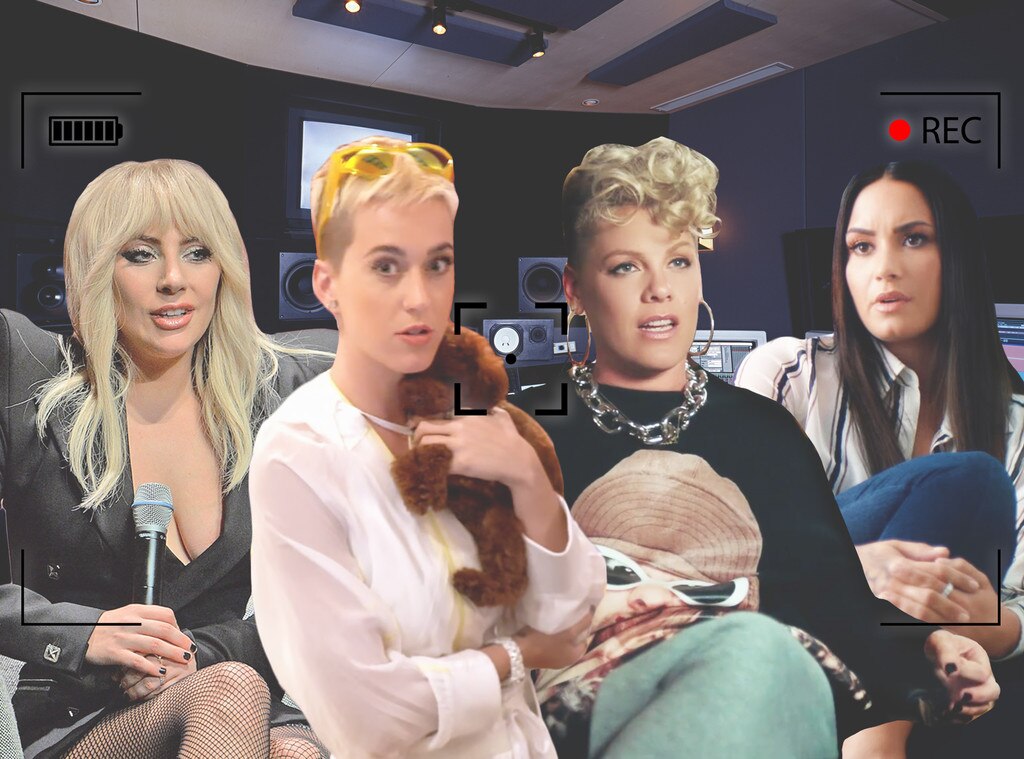 The music documentary is nothing new.
Artists have been giving fans a peek behind the curtain since the influential 1965 Bob Dylan doc Don't Look Back, which included an opening scene that, even if you haven't seen, you know. (The Love Actually poster board scene? Dylan did it first.) Over the years, there have been notable releases here and there—Madonna's seminal Truth or Dare in 1991, 2009's posthumous Michael Jackson's This Is It, 2011's Justin Bieber: Never Say Never, and Beyoncé's 2013 Life Is But a Dream, not to mention the countless specials MTV has produced in its day.
But a funny thing happened in the fall of 2017. Suddenly, within the span of about a month, the pop star doc was everywhere.
It started out innocently enough, when Lady Gaga, coming off a banner comeback year that saw the release of her fifth studio album Joanne and the headlining of both the Pepsi Super Bowl Halftime Show and Coachella (filling in at last minute for a pregnant Queen Bey), announced in August that a documentary chronicling the better part of that year, Lady Gaga: Five Foot Two, would debut on Netflix a month later.
For an artist whose career was literally structured around a playful tweaking of pop music's artifice, this was the latest in a string of choices that began with the recording of the stripped-back Joanne, made to reveal the real Stefani Germanotta who'd been just out of reach all these years, hidden underneath the outré costumes. Directed by Chris Moukarbel, the film certainly documented Gaga's process getting her most-personal album yet off the ground, but it also gave fans an unflinching look at the struggles with chronic pain that she'd only just begun to speak publicly about.
"I don't know, particularly, what the ultimate goal is, or the vision is, of this story, because I'm not sure I can be objective about myself," Gaga told E! News' Zuri Hall ahead of the film's premiere at the 2017 Toronto International Film Festival. "I wasn't interested in being part of creating a documentary that was perfect and a commercial to make people love me. I wanted something true and real to be made. And when I go in creatively, I like to go all in, you know?"
While she may have relinquished control over the project to Moukarbel, and the film did show one or two of the singer's unflattering meltdowns so as to keep it out of pure hagiography territory, it should be noted that Five Foot Two was produced by the singer's manager, Bobby Campbell, so someone with a vested interest in how Gaga was portrayed was involved in the process.
"I'm excited for people to really get to know the woman I work with everyday," he said when the film was announced. "She's one of the hardest working, most genuine and truly hilarious people in the world." (Her humor was on full-display as she looked over an old, pre-braces photo: "If I had kept that gap, then I would have even more problems with Madonna.")
And for a minute, it seemed like Five Foot Two would be 2017's one and only bold-named addition to the pantheon of pop music docs. But as a handful of pop divas began to mount their musical comebacks in fall, what followed was a surprising deluge of docs promising fans a trip behind the scenes.
First up, Demi Lovato, whose sixth studio album Tell Me You Love Me was released on September 29, announced that her documentary, Demi Lovato: Simply Complicated, would debut exclusively on YouTube on Tuesday, Oct. 17. In the feature-length doc, fans will get to hear the stories of Lovato's struggles with sobriety as they watch her make what's shaping up to be her most well-reviewed body of work yet.
"My fans have been on this journey with me since I was eight years old and have shared in some of the most important moments in my life," she said when the project was announced. "As I embark on a new journey both personally and professionally, it was important to me to create this documentary with a platform that would allow me to continue to bring my story directly to my fans."
Not to be outdone, exactly one day later, Katy Perry announced that her unprecedented Witness World Wide 96-hour livestream held over the summer, done to promote the June 9 release of her fifth studio album Witness, would be edited into a feature-length film for YouTube's subscription service, YouTube Red. The film, which was released on October 4, included never-before-seen moments, including her conception of the unorthodox livestream and her raw reaction to the entire experience once the feed stopped, well, feeding.
Hot on Perry's heels was an announcement from Apple Music that they'd be unveiling a short film featuring Pink, chronicling the creation of her seventh studio album, Beautiful Trauma. Released the same day as the album on the subscription service, the film is the routine combination of candid interviews and behind-the-scenes footage, but clocking in at just 34 minutes, it's safe to say it's the slightest of the recent spate of releases.
The music films from these streaming services are likely only getting started. While Netflix has become home for all manner of original content, YouTube and Apple are relative upstarts in the streaming wars. But there's a good chance that all could change, thanks to an insane influx of cash and musicians desperate to boost sales in this new Spotify-centric world. When Apple announced Pink's film, they noted that there were several similar projects in the works with major artists due to launch in the coming weeks. Could Kelly Clarkson, whose new album Meaning of Life is due on Friday, Oct. 27, be next?
And that's to say nothing of YouTube and its $86 billion in Google resources to develop its original library with. A documentary from rapper Warren G is next up in a plan that, according to The Hollywood Reporter, YouTube global head of original content hopes will help turn the viral video library into an "arbiter of taste and culture." Consider these music docs, a natural fit for both YouTube (associated most closely with music videos) and Apple (associated most closely with your personal iTunes library), the key to getting subscribers to stick around for more ambitious, non-musical fare. And get ready for a whole lot more of them.
Sumber: http://www.eonline.com
Eonline
Tags: #Eonline