Pope Francis's actions not heretical, just human
Two decades later, my grandfather met a woman he wanted to marry — in the Catholic Church. He had remained devout, and so was granted an annulment from the marriage to my grandmother — and poof, it didn't exist. Their years together, their five children, just erased so he could remain in the good graces of his faith.
That, according to the moral compass of the current Francis critics, is "moral." And my grandma, by those lights, was a failure. Had she remarried before my grandfather, she would have been considered an adulterer. She could have gotten an annulment too, I suppose, which would have lifted that fate from her, but this was a laborious process back then that could take years — a
process that Francis made easier two years ago
, permitting, among other things, a fast-track.
What's more, for my grandmother, living in a culture where a marriage sanctioned by the Catholic faith constituted a powerful aspect of personal identity, it's easy to imagine that the idea of expunging what was a very real union would have felt like an unforgivable lie (especially to tell before God).
/* global CNN, Modernizr */'use strict';CNN.INJECTOR.executeFeature('video').then(function () {CNN.VideoPlayer.handleUnmutePlayer = function handleUnmutePlayer(containerId, dataObj) {'use strict';var playerInstance,playerPropertyObj,rememberTime,unmuteCTA,unmuteIdSelector = 'unmute_' + containerId,isPlayerMute;dataObj = dataObj || {};if (CNN.VideoPlayer.getLibraryName(containerId) === 'fave') {playerInstance = FAVE.player.getInstance(containerId) || null;} else {playerInstance = containerId && window.cnnVideoManager.getPlayerByContainer(containerId).videoInstance.cvp || null;}isPlayerMute = (typeof dataObj.muted === 'boolean') ? dataObj.muted : false;if (CNN.VideoPlayer.playerProperties && CNN.VideoPlayer.playerProperties[containerId]) {playerPropertyObj = CNN.VideoPlayer.playerProperties[containerId];}if (playerPropertyObj.mute && playerPropertyObj.contentPlayed) {if (isPlayerMute === false) {unmuteCTA = jQuery(document.getElementById(unmuteIdSelector));playerInstance.unmute();if (unmuteCTA.length > 0) {unmuteCTA.removeClass('video__unmute–active').addClass('video__unmute–inactive');unmuteCTA.off('click');rememberTime = 0;if (rememberTime 0) {$vidEndSlate.find('.l-container').html('

');$vidEndSlate.removeClass('video__end-slate–inactive').addClass('video__end-slate–active');}};CNN.autoPlayVideoExist = (CNN.autoPlayVideoExist === true) ? true : false;var configObj = {thumb: 'none',video: 'world/2017/04/30/rome-pope-francis-opens-free-laundromat-for-the-poor-gallagher-pkg.cnn',width: '100%',height: '100%',section: 'domestic',profile: 'expansion',network: 'cnn',markupId: 'body-text_14',adsection: 'const-article-inpage',frameWidth: '100%',frameHeight: '100%',posterImageOverride: {"mini":{"height":124,"width":220,"type":"jpg","uri":"//i2.cdn.cnn.com/cnnnext/dam/assets/170430025722-rome-pope-francis-opens-free-laundromat-for-the-poor-gallagher-pkg-00010315-small-169.jpg"},"xsmall":{"height":173,"width":307,"type":"jpg","uri":"//i2.cdn.cnn.com/cnnnext/dam/assets/170430025722-rome-pope-francis-opens-free-laundromat-for-the-poor-gallagher-pkg-00010315-medium-plus-169.jpg"},"small":{"height":259,"width":460,"type":"jpg","uri":"//i2.cdn.cnn.com/cnnnext/dam/assets/170430025722-rome-pope-francis-opens-free-laundromat-for-the-poor-gallagher-pkg-00010315-large-169.jpg"},"medium":{"height":438,"width":780,"type":"jpg","uri":"//i2.cdn.cnn.com/cnnnext/dam/assets/170430025722-rome-pope-francis-opens-free-laundromat-for-the-poor-gallagher-pkg-00010315-exlarge-169.jpg"},"large":{"height":619,"width":1100,"type":"jpg","uri":"//i2.cdn.cnn.com/cnnnext/dam/assets/170430025722-rome-pope-francis-opens-free-laundromat-for-the-poor-gallagher-pkg-00010315-super-169.jpg"},"full16x9″:{"height":900,"width":1600,"type":"jpg","uri":"//i2.cdn.cnn.com/cnnnext/dam/assets/170430025722-rome-pope-francis-opens-free-laundromat-for-the-poor-gallagher-pkg-00010315-full-169.jpg"},"mini1x1″:{"height":120,"width":120,"type":"jpg","uri":"//i2.cdn.cnn.com/cnnnext/dam/assets/170430025722-rome-pope-francis-opens-free-laundromat-for-the-poor-gallagher-pkg-00010315-small-11.jpg"}}},autoStartVideo = false,callbackObj,containerEl,currentVideoCollection = [],currentVideoCollectionId = ",isLivePlayer = false,moveToNextTimeout,mutePlayerEnabled = false,nextVideoId = ",nextVideoUrl = ",turnOnFlashMessaging = false,videoPinner,videoEndSlateImpl;if (CNN.autoPlayVideoExist === false) {autoStartVideo = false;if (autoStartVideo === true) {if (turnOnFlashMessaging === true) {autoStartVideo = false;containerEl = jQuery(document.getElementById(configObj.markupId));CNN.VideoPlayer.showFlashSlate(containerEl);} else {CNN.autoPlayVideoExist = true;}}}configObj.autostart = autoStartVideo;CNN.VideoPlayer.setPlayerProperties(configObj.markupId, autoStartVideo, isLivePlayer, mutePlayerEnabled);CNN.VideoPlayer.setFirstVideoInCollection(currentVideoCollection, configObj.markupId);videoEndSlateImpl = new CNN.VideoEndSlate('body-text_14');/*** Finds the next video ID and URL in the current collection, if available.* @param currentVideoId The video that is currently playing* @param containerId The parent container Id of the video element*/function findNextVideo(currentVideoId) {var i,vidObj;if (currentVideoId && jQuery.isArray(currentVideoCollection) && currentVideoCollection.length > 0) {for (i = 0; i 0) {videoEndSlateImpl.showEndSlateForContainer();}}}callbackObj = {onPlayerReady: function (containerId) {CNN.VideoPlayer.reportLoadTime(containerId);CNN.VideoPlayer.handleInitialExpandableVideoState(containerId);CNN.VideoPlayer.handleAdOnCVPVisibilityChange(containerId, CNN.pageVis.isDocumentVisible());if (Modernizr && !Modernizr.phone && !Modernizr.mobile && !Modernizr.tablet) {var containerClassId = '#' + containerId;if (jQuery(containerClassId).parents('.js-pg-rail-tall__head').length) {videoPinner = new CNN.VideoPinner(containerClassId);videoPinner.init();} else {CNN.VideoPlayer.hideThumbnail(containerId);}}},/** Listen to the metadata event which fires right after the ad ends and the actual video playback begins*/onContentEntryLoad: function(containerId, playerId, contentid, isQueue) {CNN.VideoPlayer.showSpinner(containerId);},onContentMetadata: function (containerId, playerId, metadata, contentId, duration, width, height) {var endSlateLen = jQuery(document.getElementById(containerId)).parent().find('.js-video__end-slate').eq(0).length;CNN.VideoSourceUtils.updateSource(containerId, metadata);if (endSlateLen > 0) {videoEndSlateImpl.fetchAndShowRecommendedVideos(metadata);}},onAdPlay: function (containerId, cvpId, token, mode, id, duration, blockId, adType) {clearTimeout(moveToNextTimeout);CNN.VideoPlayer.hideSpinner(containerId);if (Modernizr && !Modernizr.phone && !Modernizr.mobile && !Modernizr.tablet) {if (typeof videoPinner !== 'undefined' && videoPinner !== null) {videoPinner.setIsPlaying(true);videoPinner.animateDown();}}},onContentPlay: function (containerId, cvpId, event) {var playerInstance,prevVideoId;/** When the video content starts playing, inject analytics data* for Aspen (if enabled) and the companion ad layout* (if it was set when the ad played) should switch back to* epic ad layout. onContentPlay calls updateCompanionLayout* with the 'restoreEpicAds' layout to make this switch*/if (CNN.companion && typeof CNN.companion.updateCompanionLayout === 'function') {CNN.companion.updateCompanionLayout('restoreEpicAds');}clearTimeout(moveToNextTimeout);CNN.VideoPlayer.hideSpinner(containerId);if (CNN.VideoPlayer.getLibraryName(containerId) === 'fave') {playerInstance = FAVE.player.getInstance(containerId) || null;} else {playerInstance = containerId && window.cnnVideoManager.getPlayerByContainer(containerId).videoInstance.cvp || null;}prevVideoId = (window.jsmd && window.jsmd.v && (window.jsmd.v.eVar18 || window.jsmd.v.eVar4)) || ";if (playerInstance && typeof playerInstance.reportAnalytics === 'function') {if (prevVideoId.length === 0 && document.referrer && document.referrer.search(//videos//) >= 0) {prevVideoId = document.referrer.replace(/^(?:http|https)://[^/]/videos/(.+.w+)(?:/video/playlists/.*)?$/, '/video/$1');if (prevVideoId === document.referrer) {prevVideoId = ";}}playerInstance.reportAnalytics('videoPageData', {videoCollection: currentVideoCollectionId,videoBranding: CNN.omniture.branding_content_page,templateType: CNN.omniture.template_type,nextVideo: nextVideoId,previousVideo: prevVideoId,referrerType: ",referrerUrl: document.referrer});}if (Modernizr && !Modernizr.phone && !Modernizr.mobile && !Modernizr.tablet) {if (typeof videoPinner !== 'undefined' && videoPinner !== null) {videoPinner.setIsPlaying(true);videoPinner.animateDown();}}},onContentReplayRequest: function (containerId, cvpId, contentId) {if (Modernizr && !Modernizr.phone && !Modernizr.mobile && !Modernizr.tablet) {if (typeof videoPinner !== 'undefined' && videoPinner !== null) {videoPinner.setIsPlaying(true);var $endSlate = jQuery(document.getElementById(containerId)).parent().find('.js-video__end-slate').eq(0);if ($endSlate.length > 0) {$endSlate.removeClass('video__end-slate–active').addClass('video__end-slate–inactive');}}}},onContentBegin: function (containerId, cvpId, contentId) {CNN.VideoPlayer.mutePlayer(containerId);if (CNN.companion && typeof CNN.companion.updateCompanionLayout === 'function') {CNN.companion.updateCompanionLayout('removeEpicAds');}CNN.VideoPlayer.hideSpinner(containerId);clearTimeout(moveToNextTimeout);CNN.VideoSourceUtils.clearSource(containerId);jQuery(document).triggerVideoContentStarted();},onContentComplete: function (containerId, cvpId, contentId) {if (CNN.companion && typeof CNN.companion.updateCompanionLayout === 'function') {CNN.companion.updateCompanionLayout('restoreFreewheel');}navigateToNextVideo(contentId, containerId);},onContentEnd: function (containerId, cvpId, contentId) {if (Modernizr && !Modernizr.phone && !Modernizr.mobile && !Modernizr.tablet) {if (typeof videoPinner !== 'undefined' && videoPinner !== null) {videoPinner.setIsPlaying(false);}}},onCVPVisibilityChange: function (containerId, cvpId, visible) {CNN.VideoPlayer.handleAdOnCVPVisibilityChange(containerId, visible);}};if (typeof configObj.context !== 'string' || configObj.context.length 0) {configObj.adsection = window.ssid;}CNN.autoPlayVideoExist = (CNN.autoPlayVideoExist === true) ? true : false;CNN.VideoPlayer.getLibrary(configObj, callbackObj, isLivePlayer);});/* videodemanddust is a default feature of the injector */CNN.INJECTOR.scriptComplete('videodemanddust');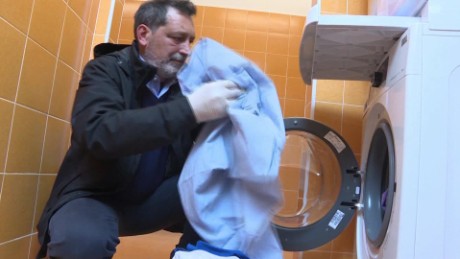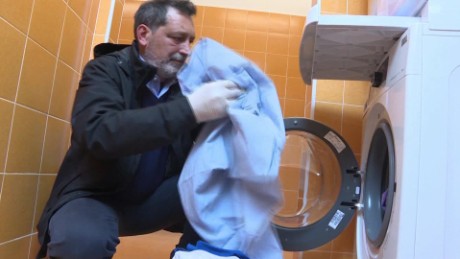 JUST WATCHED

Pope Francis opens laundromat for the poor
MUST WATCH
{"@context": "https://schema.org","@type": "VideoObject","name": "Pope Francis opens laundromat for the poor","description": "Pope Francis has set up a place which offers a different kind of care for the poor. CNN's Delia Gallagher reports. ","thumbnailURL": "http://i2.cdn.cnn.com/cnnnext/dam/assets/170430025722-rome-pope-francis-opens-free-laundromat-for-the-poor-gallagher-pkg-00010315-large-169.jpg","image": "http://i2.cdn.cnn.com/cnnnext/dam/assets/170430025722-rome-pope-francis-opens-free-laundromat-for-the-poor-gallagher-pkg-00010315-large-169.jpg","duration": "PT2M5S","uploadDate": "2017-04-30T10:24:01Z","contentUrl": "http://www.cnn.com/videos/world/2017/04/30/rome-pope-francis-opens-free-laundromat-for-the-poor-gallagher-pkg.cnn","url": "http://www.cnn.com/videos/world/2017/04/30/rome-pope-francis-opens-free-laundromat-for-the-poor-gallagher-pkg.cnn","embedUrl": "http://fave.api.cnn.io/v1/fav/?video=world/2017/04/30/rome-pope-francis-opens-free-laundromat-for-the-poor-gallagher-pkg.cnn&customer=cnn&edition=domestic&env=prod"}
Sumber: http://rss.cnn.com
World News
Related
Tags: #World News