Prince Andrew Denies Royal Rift Over Princesses Beatrice and Eugenie's Roles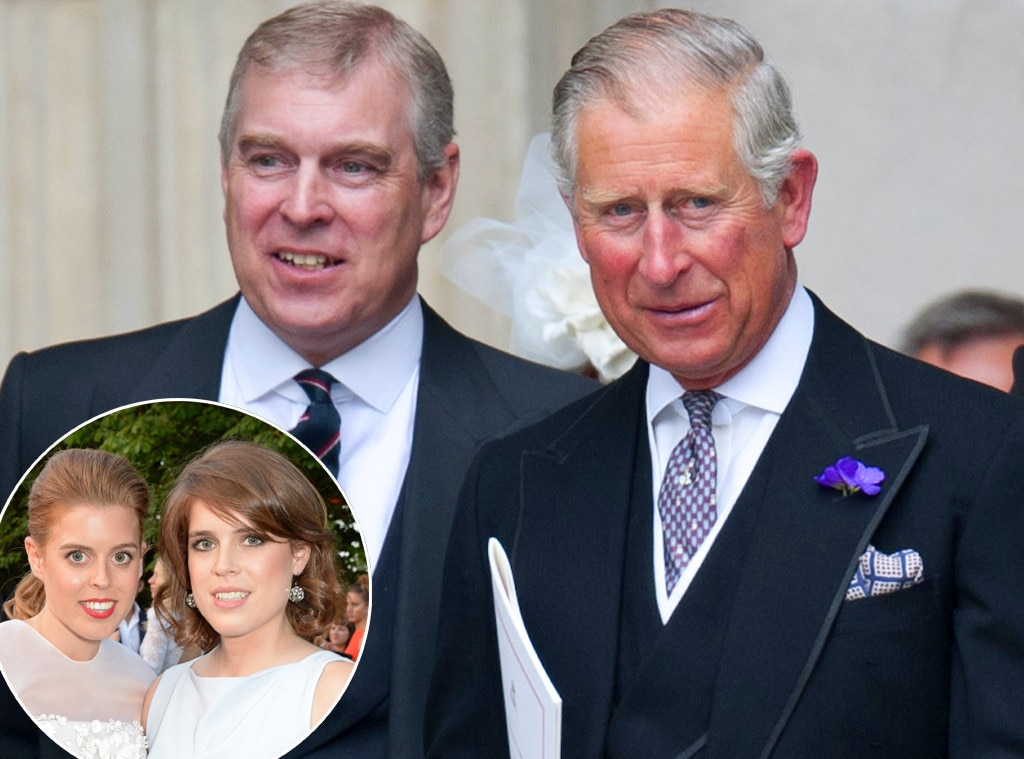 No Royal brother rift here!
Prince Andrew, Duke of York, took to Twitter Friday to issue a rare statement denying recent rumors that a "split" had developed between himself and older brother Prince Charles, the heir to the British throne and father of Prince William and Prince Harry, over the future roles of his daughters, Princess Beatrice and Princess Eugenie, in the Royal family.
"Over the past few weeks a number of stories have been run in various newspapers that have no basis of fact and the most recent, relating to my daughters, requires correction to terminate further speculation and innuendo," Andrew said.
"Whilst I appreciate, as Granddaughters of the Queen, there is considerable interest in my daughters, I cannot continue to stand by and have the media speculate on their futures based on my purported interventions, which are completely made up and an invention," he said in his statement, posted as a PDF file.
The Daily Mail had reported Thursday Andrew allegedly wants to improve their status by persuading Charles and their mother Queen Elizabeth II to allow the women's future husbands to become earls, which would ensure their future children would not become commoners.
The newspaper reported in October that Andrew allegedly sought full-time Royal status for his daughters, which come with the obligation of carrying out official engagements, and was "livid" when Charles refused. The outlet added Andrew then wrote to his mother, asking her to intervene.
"To clarify: It is a complete fabrication to suggest I have asked for any husbands of the Princesses to have titles," Andrew said in his statement. "There is no truth to the story that there could be a split between the Prince of Wales and I over my daughters' participation as Members of the Royal Family and any continued speculation is pointless."
"As a father, my wish for my daughters is for them to be modern working young women, who happen to be Members of the Royal Family, and I am delighted to see them building their careers," he continued. "When they do support the Royal Family in its work this is very much appreciated by my Family and most importantly by those organizations and to those for whom their participation makes such as difference to their lives."
Eugenie had worked for almost two years at online auction house Paddle8 in New York before she moved back to London in 2015 to become an associate director at the Hauser & Wirth art gallery. Beatrice took a finance course and then got a job at an investment firm in New York. She left her post this past summer to pursue "entrepreneurial ambitions," U.K. media reports said.
The women's mother and Andrew's ex-wife Sarah Ferguson also spoke out Friday against the recent reports about their daughters, who she praised for recently joining her as patrons of the Teenage Cancer Trust charity.
"Both the duke and myself, we could not be more proud of this moment because these two girls that work so hard in their own careers have taken time off today to spread the word of teen cancer, which is so important, and then go back to work," the U.K. newspaper The Guardian quoted Ferguson as saying. "It's really an extraordinary example that, I think, good parenting and listening to your children and getting them to take responsibility for their own actions."
"Let's focus more on this and less on tittle-tattle gossip," she added. "Stop bullying the York family, please." 
Sumber: http://www.eonline.com
Eonline
Tags: #Eonline