Prince Philip Is Already Making Jokes About His Retirement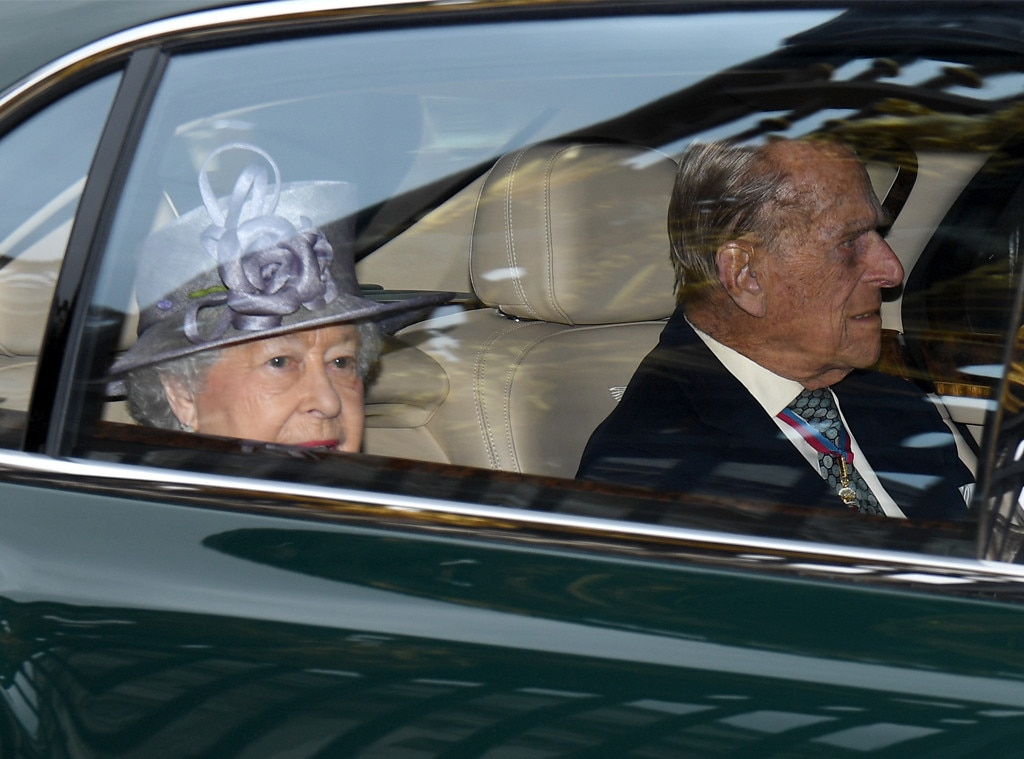 As scheduled, Queen Elizabeth II and Prince Philip headed to a Thursday morning service for members of the Order of Merit. After the ceremony, held inside the Chapel Royal in St. James' Palace, the British royal couple hosted a luncheon for members who attended the gathering—marking the duo's first public appearance since Philip announced his retirement hours earlier.
"I'm sorry to hear you're standing down," one man told Philip. The Duke quipped, "Well, I can't stand up much."
"His Royal Highness The Duke of Edinburgh has decided that he will no longer carry out public engagements from the autumn of this year. In taking this decision, The Duke has the full support of The Queen. Prince Philip will attend previously scheduled engagements between now and August, both individually and accompanying The Queen," a Buckingham Palace spokesperson said. "Thereafter, The Duke will not be accepting new invitations for visits and engagements, although he may still choose to attend certain public events from time to time."
"The Duke of Edinburgh is Patron, President or a member of over 780 organizations, with which he will continue to be associated, although he will no longer play an active role by attending engagements," Buckingham Palace's statement continued. "Her Majesty will continue to carry out a full program of official engagements with the support of members of the Royal Family."
In his lifetime, Philip has made 22,191 solo visits, given 5,493 speeches and authored 14 books. In 2015 and 2016, Philip carried out 184 engagements in the U.K., in addition to making official visits to Germany and Malta. As of now, Philip's final public engagement is scheduled for July 14, when he and Elizabeth host Spain's King Felipe VI and Queen Letizia at Buckingham Palace. During the state visit, Felipe and Letizia will also meet with Prince William and Kate Middleton.
In a statement Thursday, British Prime Minister Theresa May thanked the 95-year-old prince for his years of service. "On behalf of the whole country, I want to offer our deepest gratitude and good wishes to His Royal Highness the Duke of Edinburgh following today's announcement that he will stand down from public duties in the autumn," May said. "From his steadfast support for Her Majesty the Queen to his inspirational Duke of Edinburgh Awards and his patronage of hundreds of charities and good causes, his contribution to our United Kingdom, the Commonwealth and the wider world will be of huge benefit to us all for years to come."
Elizabeth and Theresa had their weekly catch-up Wednesday, which ran longer than usual. Philip visited the Marylebone Cricket Club to open the Warner Stand at Lord's Cricket Ground.
Theresa wasn't the only dignitary to honor Philip's accomplishments Thursday.
"I would like to pay tribute to Prince Philip following his decision to retire from public service. He has dedicated his life to supporting the Queen and our country with a clear sense of public duty," Labour Party leader Jeremy Corbyn said Thursday. "His Duke of Edinburgh's Award scheme has inspired young people for more than 60 years in over 140 nations. We thank Prince Philip for his service to the country and wish him all the best in his well-earned retirement."
"On behalf of the Government of Canada," prime Minister Justin Trudeau tweeted Thursday, "I thank Prince Philip for his decades of service and wish him the all the best in his retirement."
The Duke has not revealed what he plans to do with his downtime.
Elizabeth and Philip will celebrate their 70th wedding anniversary in November.
(Originally published on Thursday, May 4, 2017, at 4:15 a.m. PDT.)
Sumber: http://www.eonline.com
Eonline
Tags: #Eonline