Prince William Jokes Princess Diana Would Have Been a "Nightmare" Grandmother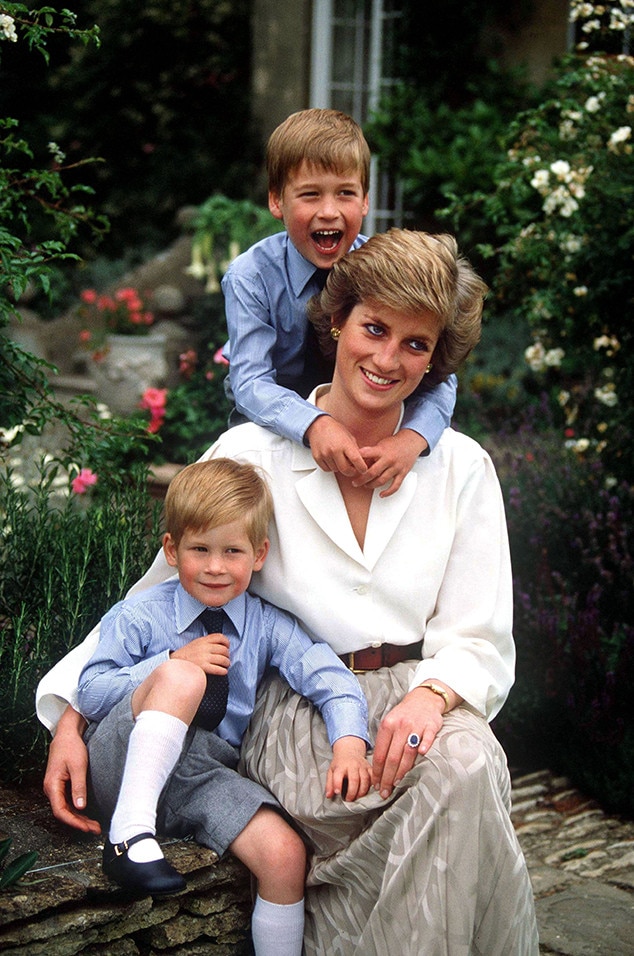 It's a shame Prince William's children will never meet their paternal grandmother.
In Diana, Our Mother: Her Life and Legacy, airing tonight at 10 p.m. on HBO, the 35-year-old heir to the British throne says he is "constantly talking about Granny Diana" with his children, Prince George, 4, and Princess Charlotte, 2. Had she not died in a car accident 20 years ago next month, Princess Diana would be 56 years old, probably doting on her two grandchildren.
"We've got more photos up round the house now of her and we talk about her a bit and stuff. It's hard, because obviously Catherine didn't know her, so she cannot really provide that, that level of detail. So, I do regularly when putting George or Charlotte to bed, talk about her and just try and remind them that there are two grandmothers—there were two grandmothers—in their lives," William says. "So, it's important that they know who she was and that she existed."
Diana might have liked her grandchildren a little too much, he jokes. "She'd be a nightmare grandmother—absolute nightmare. She'd love the children to bits, but she'd be an absolute nightmare," he says. "She'd come and go and she'd come in probably at bath time, cause an amazing amount of scene, bubbles everywhere, bathwater all over the place, and then leave."
Though nearly two decades have passed, William still feels closely connected to Diana. "They always live with you, people you lose like that," he says. "My mother lives with me every day."
William speaks about how Diana gave him a sense of normalcy normally not afforded to members of the royal family—something he and Kate Middleton are doing with their own children. "She understood there was a real life outside the palace walls," he says, mentioning some of her numerous philanthropic efforts. "She wanted us to see it from a very young age."
In the documentary, William and Prince Harry share never-before-seen family photos and open up about Diana's life inside the palace walls. For the most part, the two brothers had a happy early childhood. In fact, William only ever remembers seeing his mom cry over stories in the media. "Harry and I lived through that, and one lesson I've learned is you never let [the media] in too far, because it's very difficult to get them back out again. You've got to maintain a barrier and a boundary," William argues, "because if both sides cross it, a lot of pain can come from it."
Diana, Our Mother: Her Life and Legacy airs tonight at 10 on HBO.
Sumber: http://www.eonline.com
Eonline
Tags: #Eonline