Secrets, Lies, Cheaters dan Frauds: A History of Real Housewives Relationship Implosions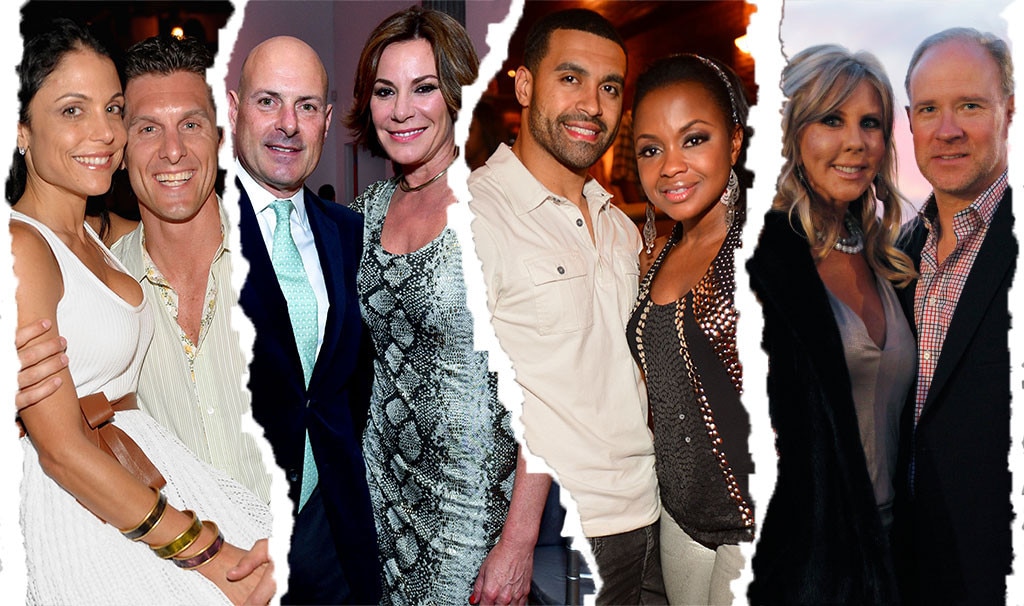 Smattering of success stories aside, reality TV has not proved to be a reliable way to meet one's forever-mate.
And that tends to be the case no matter what stage of life you're in, whether you're looking to fall in love for the first time or you're already a few marriages deep, whether you're on a show expressly to meet someone or you're on a show because your life is swanky and interesting enough that the cameras came to you. 
A show that has the word Housewives in the title at first sounded like the kind of show in which dating wouldn't take center stage, but oh, how immediately that assumption was blown out of the water.
In fact, almost nothing on the reality TV spectrum has provided as much engrossing drama as the troubled relationships—and many breakups—that have played out over the years in every city to have sprouted a Real Housewives franchise so far.
The recent demise of Luann de Lesseps' marriage to Tom D'Agostino—an ill-advised union in the first place according to some of her Real Housewives of New York City castmates—after only seven months inches the overall divorce/separation rate on the show up to 50 percent. Fifteen NYC Housewives over the years, five still married, five divorces (including Luann's first divorce, from Count Alexandre de Lesseps, in 2009) and six unmarried stars (while on the show, that is).
So let's just forget the whole Wives part of the equation and focus on the relationships that have run their course while the cameras were rolling.
"I told Luann I'm there for her whether this worked out or not and here I am," Sonja Morgan, who along with Ramona Singer previously dated D'Agostino and didn't love the match, told E! News after Luann confirmed Wednesday that the marriage was over. "Men come and go, and at the end the day, we have our girlfriends, don't we? I wanted it to work out, but I want her to know I'm here for her."
Sources told E! News that Luann was fed up with the rampant rumors of Tom's infidelity and she's planning an extended vacation in Europe with her two kids. "I do not think Tom cheated on me, definitely not," Luann told Page Six in the meantime. "God knows he's got himself in some trouble in the past, but I don't believe that continued [while we were married]."
Countess Luann seemed to have it made in the shade when RHONY first premiered in 2008, but by the end of that year, she and Count Alexandre, who was roughly 16 years her senior and had been married three times before, had separated. In March 2009, he informed her via email that he had met someone else.
"I was devastated," she told People in April 2009. "I knew that we were kind of separating, but I was hoping that things were going to work out." The looming end of her marriage also coincided with the release of her book, Class With the Countess: How to Live With Elegance and Flair, and she couldn't have been in less of a mood to go out and promote. The book was dedicated to her husband, no less.
"When I wrote the book I felt very secure," Luann said. "And that's totally changed."
She soon found love again, however, with Jacques Azoulay, and they stayed together for four years before parting ways in 2013 as friends. Luann said that they still "adored" each other but they wanted different things. Meanwhile, cue the rumor today that Azoulay somehow played a role in her split from D'Agostino, as the old flames had been spending time together. De Lesseps insisted to Page Six that she and Azoulay were "just friends."
"God knows I've been going through enough recently, I don't understand why this false rumor is coming at me," she said.
You've still got to be hard-pressed not to want to root for Luann's happiness. But at least she has a successful show; she's among friends (and frenemies); and she's hardly sailing the oft-choppy relationship waters alone.
Besides, she should feel safe in knowing that the grass is not always greener on the other side. In fact, most of the time, that grass is bone-dry.
Ramona, for instance, was only free to date D'Agostino before Luann did because her 22-year marriage to Mario Singer ended with her filing for divorce in 2015, the year after they separated when she caught him cheating red-handed at their home in Bridgehampton—and after she had tried to make it work and given him multiple chances to make amends. "But you reach a point where you realize the other person isn't putting in as much effort as you are," she told People. "And I reached my breaking point."
The mother of one recently flaunted a very evolved perspective, telling AdWeek in April, "I never thought I'd ever be divorced. That's why I waited to get married later at 37. I came through my divorce with flying colors. I'm in a good place." 
But it sucked all the same while it was happening, particularly due to the infidelity, which Singer wrote about in her memoir, Life on the Ramona Coaster. "Mario and I have been through so much together," she wrote. "Over the course of two decades, we raised a child together, traveled the world, built two homes, and supported one another through all four of our parents' deaths. But once I started doing the show my life began to move in one direction and his in another. The underlying foundation of our marriage began to shift, and I didn't realize he was unhappy until it was too late."
As she told AdWeek, she and Mario put any animosity aside for their daughter, Avery. "We both know she comes first," she said.
Commenting on how she felt about Luann's then four-month-old marriage to Tom, whom she had dated, Ramona said, "She just wanted to get married. Tom could have been with 50 women and she wouldn't care." But, Singer added, "She was married for a very long time—15 years—and single for seven. I've only been divorced for two years so who knows I'll feel in a few years. All I know is that she's happy and I'm happy she's happy."
Ramona's sparring partner of late, once-divorced Bethenny Frankel, took a break from RHONY to marry Jason Hoppy and star in her own spin-off—but while the couple seemed destined at first for a Bethenny Ever After type of happiness, welcoming daughter Bryn in 2010, they were separated by the end of 2012 and Frankel filed for divorce in 2013, citing "fundamental differences" in an appearance on Watch What Happens Live.
Hoppy then became notorious for continuing to wear his wedding ring for months, a court battle ensued over custody and spousal support and the divorce wasn't finalized until 2016. 
"This has been a very big surprise and I never would have expected that it would have gone one-tenth of how far it's gone—but I feel good about it and I feel strong," Frankel told E! News last year as the proceedings neared the finish line. "I feel strong that I stuck to what I know is right, as a person, as a woman, as a successful woman, as a woman who's made money in a recently new and short period of time, and married somebody who was not successful or had any relationship to fame. And I learned a lot during that process, and I will not make the same choices again.
"I don't regret because I love my daughter," Frankel continued. "She's the most amazing human being and gift in the world, but this has been an almost four-year ordeal that I could've never imagined. Who even knows what the reason is, but I'll find out later why this happened."
Jules Wainstein joined the ranks of the RHONY divorcées last year just as her one season on the show was starting to unfold. Her eight-year marriage to Michael Wainstein dissolved into an ugly legal back-and-forth that included Jules claiming she caught Michael cheating (his lawyer denied it); Jules obtaining a temporary restraining order against her estranged husband; and Michael accusing Jules of having a drug problem (she maintains she was only in rehab to undergo treatment for an eating disorder) and going after sole custody. 
"They were having issues before the show, but I think pressure from filming clearly put a strain the marriage," an insider told E! News not long after Michael filed for divorce in June 2016. "It brought things to a head." Added another source, "This divorce is contentious and it's going to be ongoing."
In announcing last September that she wouldn't be returning to RHONY, her rep told us, "Jules is going good through a divorce and is putting her family first."
Kelly Bensimon was divorced from photographer Gilles Bensimon before she joined RHNYC, but she did have a boyfriend, Nick Stefanov, accuse her of sucker-punching him in March 2009 during an argument. (Stefanov also claimed he was Bensimon's fiancé, but she denied they were engaged.) A misdemeanor assault charge was filed against her but a judge agreed to dismiss the case provided Bensimon perform community service and stay out of further trouble for a year. She told E! News after the issue was settled that she felt "threatened" by Stefanov in that incident.
"The thing that I didn't do, which I should have done, is call my doorman. Or I should have called the police," Bensimon recalled, saying that she had been trying to end the relationship at the time. "I should have said, 'You know, I can't handle this.'…I regret not putting the situation into the hands of someone who could handle it."
It became a teachable moment for her family. "I've always made a concerted effort to empower my kids and to give them enough information to teach them that they are amazing girls," she said. "They understand that no one can touch their bodies and no one can harm them or hurt them."
Meanwhile, that's all just in New York! A hop, skip and a jump away in New Jersey, 89 percent of the marriages are holding fast, through financial drama, prison and some impressive displays of arguing.
But what's done had to be done. Dina Manzo dumped unfaithful husband Tommy Manzo (who never appeared on The Real Housewives of New Jersey with her) in 2012, seven years after their $1.1 million nuptials were featured on VH1's My Big Fabulous Wedding. (She denied rumors that she was unfaithful as well while married.)
"My secret…I have been separated since October, my heart hurts but Tommy & I will always share a very special love," Dina tweeted on Feb. 1, 2013. "So grateful for the support of my loved ones during this time, especially my spiritual friends. You know who u are xoxo."
"It was brutal, gut-wrenching," she told Life & Style in 2014 about letting the emotional aftermath of her separation play out on RHONJ. "But I told myself that what I'm going through, some of the viewers are going through—if I can help them, that is my goal"
Dina, who has a daughter with first husband George Hadjiapostoli, relocated to California last year and started a skincare line, Glow by Dina. 
A commuter flight away and just two seasons in, The Real Housewives of Potomac is dripping with divorce drama as well.
Charrisse Jackson Jordan and husband Eddie Jordan were already having marital issues when RHOP premiered last year and tensions only got worse, leading to Charrisse announcing during the season one reunion special that she was divorcing Eddie.
"We're cool," she told The Dirty in April. "He's not into this show stuff. That was the deal that made him want a divorce—me doing the show."
Neither had filed for divorce, however, by April 26, when Charrisse told Bravo's Daily Dish about finally waking up one day and seeing the light.
"I had this thing where I made a vow to God, and I didn't want to break the vow to God," she explained. "And so this particular morning, I woke up, and it was like a voice in my head. It said, 'Do you think this is how God wants you to live the rest of your life?' And so, I just had a weight lifted off of my shoulders when I said, 'No, he doesn't.' From that point, I needed to just accept things for what they were and start to live my life as Charrisse and not Mrs. Jordan."
They both had lawyers, she said, and their lack of legal action did not mean they were trying to reconcile.
"It's not we're thinking we're going to get back together. I think it's just that we're both lazy," Charrisse said. "That's the only reason, to be honest with you. We're kind of lazy in that department," she said. "But it's gonna happen, unfortunately, it is. I'm not excited that it's gonna happen, but it's inevitable. It's gonna happen."
The season two RHOP reunion special was reserved for the bombshell that Ashley Darby and her husband, Michael Darby, had separated in February after a season that included Ashley threatening Michael with divorce during a particularly rough fight.
Michael, 57, cited their 28-year age difference on the reunion special. "She's feeling out who she is going into her evolving life and future," he explained. "And I'm at my age, coming through the end of my career, looking to all kinds of things that are very different from some of the things I am looking for."
But no one's making any rash moves, and Ashley told People last month that she was hoping to reconcile with her husband of two years, with whom she co-owns the restaurant Oz and had been with for two years before they married.
"He's my person," she says. "We're taking the time to evaluate exactly what we expect from our relationship and if both of us can give each other what we need. We still really care about each other, so the foundation is there. It's just a matter of repairing some of the faults in the foundation." 
So what is it about life along the Beltway? Though none of the four marriages that eventually ended officially ended on camera, that makes for a 100 percent divorce rate among the four married stars of The Real Housewives of Washington D.C. (and Lynda Erkiletian did later split up with boyfriend Ebong Eka).
Catherine Ommanney said that her marriage was actually unraveling during filming in 2009, telling Parade in October 2010 as the RHODC's one season was ending, "'Obviously, my marriage fell apart and so my life has been completely turned upside down and inside out. I've had to do some major soul searching and I still am. Hopefully things will start to improve."
Her ex, photojournalist Charles Ommanney, told The New York Times in August 2010, while the season was still in full swing, "I haven't seen it, but I've seen the previews and I made a promise to myself to not sit and watch my ex-wife. It's just too painful. I've got eight more weeks of hundreds of Facebook requests from people I don't know. I'd almost like to go and live in Katmandu. I have very few regrets in my life, but this is the one."
Mary Schmidt-Amons, Stacie Turner and Michaele Salahi all broke up with their husbands in 2012—though honorable mention to Salahi, whose marriage to Tareq Salahi imploded in spectacular fashion when she ran off with Journey's Neal Schon, whom she married in 2013.
Motoring toward Atlanta, not surviving prison is the marriage of Phaedra Parks and Apollo Nida. After her husband of five years was sentenced to eight years in prison on fraud charges (and after he flirted back with Kenya Moore way too much), Parks started divorce proceedings in October 2014—and so started a long process, made all the longer because Nida was behind bars (and fostering a relationship with his now-fiancée). 
Last fall Parks was claiming her divorce was settled, but a judge threw the deal out in March, reportedly citing multiple concerns, such as Nida not being served with the final set of divorce papers and the prisoner's claim that he had thought he'd be able to still attend divorce hearings in person.
"It's very confusing why a man who is engaged and enjoys frequent visits with his fiancée would work so aggressively to avoid ending his marriage," Parks' rep told Us Weekly at the time. "Regardless, Phaedra is reviewing her options with her attorney to determine the most efficient path toward ending this marriage so she can move forward and focus on raising strong, healthy and happy children." In June, Parks called the process "very frustrating, it's very expensive, it's very emotionally draining and quite time consuming.
TMZ reported last month that a new settlement had been reached.
Parks has been in understanding company on The Real Housewives of Atlanta. NeNe Leakes divorced, then remarried Gregg Leakes, proving that (memo to Ashley Darby!) reconciliations do happen.
But Porsha Williamswas blindsided by a social media post that informed her Kordell Stewart was divorcing her in March 2013 after a little less than two years of marriage (and a year after he retired from the NFL, typical). Williams moved on in 2015 with football player Duke Williams, who was playing for Buffalo at the time, but they split up after just a few months but after providing endless gossip fodder for the rest of the RHOA crew.
"I really let Duke in [to my life] because my friend…had vetted him for like a month," Williams later explained. "I just wanted somebody at that point to be a support system for me and he was that." Training camp got in the way, however, and distance eventually contributed to their breakup.
"I had been single for two years and he was 24. Enough said," she laughed. "I was excited and enjoying what I was getting at the time but I'm definitely slowing it down a bit…letting the guy earn me."
Reflecting on the rough end of her marriage in March, Williams, dating Todd Stewart at the time (no relation to Kordell and someone she had dated in the past), told Bravo's Daily Dish, "It's hard to say [what lessons I learned] because what I really loved about marriage was that union. I loved knowing that I belonged to someone. They belonged to me and that I had a household that I was taken care of and that I was proud in that moment. And I think that will probably be what will force me to get married again 'cause that fulfillment means a lot to me, family means a lot to me. So you know, Todd is trying to teach me not to give up on that."
Cynthia Bailey, who married Peter Thomas in 2011, during the show's third season finale, was seen getting her divorce proceedings underway during RHOA's ninth season premiere last fall.
"Peter and I have been living apart for about 5 months now," the model, who had consulted a lawyer but not yet filed for divorce, said on the show. "The last time we saw each other, I expressed my unhappiness in this marriage and my intentions to move forward in a different direction. Peter and I never painted a picture that our marriage was perfect. My breaking point was last year. I just felt like, you know, this is it. There's not going to be real change."
"I want to take some time for myself. I think the time apart has been good for him as well. It wasn't like I had to do it right this second but the more we got used to not being together and living together, the easier this divorce is going to be," Bailey opened up to E! News about her separation from Thomas in July 2016. "I don't want it to be an ugly divorce because I still love Peter. I just don't want to be married to Peter anymore."
Thomas, meanwhile, claimed he was totally blindsided by Bailey's use of the D-word. He went on The Wendy Williams Show soon after to tell his side of the story in response to Bailey telling E! of her intent to divorce him. "The guys on the show never, ever get a voice." 
"We got married on the show and everything that we do is under a microscope," he said, "and Cynthia's not really good with dealing with that whole pressure, that's not who she is. So we talked about separation, but we didn't talk about divorce. So my phone was blowing up one morning."
Asked why he thought the marriage ended, Thomas said, "Again, our whole marriage was on the show, and it's not easy to live that life when every time I go out, if I'm with any staff member…someone's sayin' 'I'm doin' this, I'm doin' that,' so she can't deal with the ridicule of that. I don't think she was built for that."
Wendy asked pointedly why they didn't just leave the show. "They don't pay me to be on reality TV, they pay her," Thomas said. "But they're paying you this season, right?" William smiled. "Well, they're gonna have to work it out, right?" he smiled back.
In response to Wendy's guess that Cynthia might not have felt that he deserved the respect of a chance to announce their divorce in a joint statement, Thomas denied cheating. "Never. I have never. Never!" he insisted.
Happening off-camera, former RHOA star Lisa Wu divorced second Ed Hartwell in 2011, after she left the show, and DeShawn Snow, who only appeared on season one in 2008, ending up divorcing Eric Snow in 2010 after 12 years of marriage.
And speaking of going even further south, The Real Housewives of Miami only lasted three seasons and ended in 2013, but that was plenty to ensnare Marysol Patton, who revealed during season two that she was divorcing her businessman husband Philippe Pautesta-Herder after barely two years of marriage. The episode didn't air till December 2012, but that September she had told WetPaint.com, "Honestly, I'm all about work, work, work, work, and I put my work first, and it just didn't gel."
Patton, who was on marriage No. 2, admitted to Celebuzz that November, "I was really, really, really sad the whole time we were filming. I was an emotional wreck. My father was sick. My parents had just separated. I was going through a divorce. I was filming. I was running my company. I had a lot on my plate and it was a really hard time for me. I was just an emotional mess, but I tried."
Last year, long after the cameras stopped rolling for good on RHOM, retired NBA star Scottie Pippen filed for divorce last October from wife Larsa Pippen, who had appeared on season one. Season 2-3 star Joanna Krupaand husband Romain Zago announced their separation in May and filed for divorce last month. Their attorney told E! News that they had already "successfully and amicably resolved all matters."
The Pippens, who were married for 19 years, were in no rush, however, and actually attempted to reconcile for several months, continuing to live in the same house with their four children but sleeping in separate bedrooms. In April a source told E! News that they remained friends but Larsa had been "unhappy for a while now. She's just not happy with him. It's definitely over."
Take a break as we swing west, past The Real Housewives of Dallas and their six still-chugging marriages, as well as LeeAnne Locken's ongoing relationship with boyfriend Rich Emberlin, a retired police detective who also appeared on Dallas SWAT, The First 48 and the A&E docu-series Live PD.
But the first stop in California is The Real Housewives of Beverly Hills, most recently featuring the end of Yolanda Hadid and David Foster's marriage in December 2015. "You know we had a beautiful love story that I will treasure forever," Yolanda said in a call to Watch What Happens Live at the time. "Unfortunately it was not strong enough to withstand the circumstances that came our way." Asked if her battle with Lyme disease played a role, she said, "Well, chronic long-term illness is extremely challenging. Not only for the person sick but also for the caregiver. It for sure changed the dynamic of the relationship."
A few weeks later David said in a statement to E! News, "Over the past few weeks, a great deal of inaccurate or baseless information has been reported claiming to represent my thoughts and feelings. It is painful to watch this happen repeatedly—especially while trying to cope with the personal nature of the challenges surrounding the breakup of our loving marriage." He added, "I have been by Yolanda's side over the past four years to the best of my ability as she battled with the complexities of  her Lyme diagnosis. I am incredibly  proud of Yolanda's determination and mission to find a cure, and how brave and open she has been by sharing her story in the hopes of changing the future for others."
Their breakup occurred off-camera, but tensions were evident during season six, which turned out to be Yolanda's last.
Things started off nastily between Adrienne Maloof and Dr. Paul Nassifafter the plastic surgeon filed for a legal separation and then a divorce in August 2012, and soon after filed an emergency petition for custody of their children, claiming they were at risk of harm in their mother's care due to her allegedly erratic behavior. A judge denied the petition, and Maloof fired back with her own filing alleging that Nassif was the one with the violent temper.
A couple months later, however, they said they had settled their differences. In August 2013, they announced their amicable divorce settlement, stating, "Our first priority is our children's' well-being and happiness. As their parents and advocates that is our goal. Our children are our most important treasures and need to be treated with the respect and privacy they deserve. We're happy to be moving forward with our lives in a positive way not only individually but as co-parents.
Not so amicable was the collapse of Camille and Kelsey Grammer's marriage in 2010, which turned ugly, fast, as he moved on immediately with his future fourth wife Kayte Walsh and the animosity lingered for the next two years as they hammered out a settlement and custody arrangement for their two children.
"It very difficult to co-parent with someone who won't speak to you, text you or email you," Camille lamented to Anderson Cooper on Anderson Live in 2012, claiming her son and daughter weren't allowed to say her name in her ex's home. "He doesn't speak to me at all. So it's very, very difficult because I've reached out to him. I think it's very important to be amicable to raise children and he refuses to. There's just so much I can do at this point." As recently as 2014, when she popped up on WWHL with her former cast mates, she said Grammer remained a "total dick."
But once again, child's play compared to what happened to Taylor Armstrong, whose husband Russell Armstrong committed suicide in August 2011, a month after she filed for divorce. Taylor spoke candidly and later wrote in her memoir Hiding From Reality at suffering physical and emotional abuse during her marriage. Russell, who battled depression, had a history of financial and legal issues, including charges of felony tax evasion and domestic violence from his first marriage (he pleaded no contest to misdemeanor battery).
"There was a storm happening in my life that was very separate from a camera being there," Taylor explained to KTLA's Channel 5 News that October. "I was in an abusive relationship for six years and that was going on…The only thing I would say, if the cameras were not in my life, I might not be sitting here today. A lot of domestic violence situations end in murder-suicide, versus just suicide. I have my daughter with me today, and by the grace of god and, perhaps, reality TV, I'm sitting here and so is she."
Which brings us back to where it all began, in Orange County.
Tamra Judge, now happily remarried to Eddie Judge, was Mrs. Simon Barney when she joined the show in season three. By season five, which wrapped up in 2010, Simon had filed for divorce after 11 years of marriage, alleging that Tamra had been "verbally abusive and has committed acts of disloyalty and infidelity." She denied all of it.
The exes were granted joint custody of their three children, but eldest daughter Sidney opted to live with her father full-time, apparently no longer on board with her mom's tell-all-on-TV style. Simon attempted to get full custody of all three kids in 2014, alleging Tamra was a negligent parent, and he claimed in 2015 to have been granted full custody of Sidney, but Tamra insisted nothing had changed (including Sidney's desire to stay put with her father). "I was accused of abusing my kids, not feeding my kids, not bathing my kids and all these things and they were all false," she said on WWHL in 2015. "I was called 'Monster Mom' on tabloids. It was horrible…It's hard to recover. It's hard to forgive somebody for doing that to you, and it tore my family apart."
Tamra and Simon amicably reunited for Sidney's high school graduation this past June, however, so perhaps time really does heal some wounds.
The first divorce papers filed during active production in the history of The Real Housewives franchise may have belonged to original Real Housewives of Orange County star and former Playboy Playmate Jeana Keough, who was with the show full-time for its first five seasons, from 2006 to 2010. She and retired baseball player hubby Matt Keough had been married since 1984 and had three children, but Matt struggled with alcoholism (he was arrested twice for DUI in five years and spent time in both rehab and jail.) 
The Keoughs separated in 2008.
Still in the process of divorcing Matt in 2010, Jeana appeared on his behalf in court that October before he was sentenced to a year in jail for a 2009 DUI. Jeana told the judge that she didn't think taxpayer money needed to be spent on locking her estranged husband up and that he'd have a strong support system with her and their children nearby. "He's not a threat to society at all."
Just days later, the O.G. of the O.C., Vicki Gunvalson filed for divorce from husband Donn Gunvalson, her second husband, after 16 years of marriage—and just a year after they had renewed their vows (as seen on the show in January 2010).
"Donn has been an important part of my life and he will continue to be. Anyone who has gone through a divorce understands that this is a personal matter and a difficult time in our lives," Gunvalson said in a statement. "It's amicable and we are not at odds with one another. It's just time."
Gunvalson had made it pretty clear on the show that the fire had diminished for her over the years. Namely, her "love tank" was empty. "I found out that Vicki filed for divorce when the process server showed up at my office," Donn told Andy Cohen in 2011. "From the get-go, the time I was asking Vicki to give me and our time together just didn't happen. Every evening, she was working late and her trips would become longer and she'd call less and less. It was typical Vicki—she orchestrated [the divorce], that's how she rolls."
Brooks Ayers was happy to fill Vicki's love tank starting in late 2011, after which he made his debut on RHOC in February 2012—much to the rest of the O.C. crew's discomfort, eventually.
"The ironic thing is we have a lot of friends that are total fans of us. It happens to be the castmembers who were questioning because they didn't get the time to meet him," Vicki told E! News in 2013 after her relationship with Brooks had drawn a visible schism between her and all of her disapproving frenemies and even prompted concern from daughter Briana. "It's definitely important for everyone in my life to be in acceptance of who I'm with. I think he was dealt a bad card a little bit."
Perhaps not enjoying being the most hated man in the room, Brooks temporarily broke up with Vicki in 2013, but they were back together in time to film for the season premiere of season nine, in April 2014. In June 2015 they confirmed they were living together—and said, notably, that Brooks was battling cancer. On Aug. 15, 2015, the pair announced on Facebook that they had broken up again.
Despite tweeting that she'd never speak to Brooks again, a source told E! News that Vicki was "absolutely still in love with Brooks. She talks about missing him. She's dating other people here and there, but she's not over Brooks."
Meanwhile, it was painfully obvious that Tamra & Co. didn't believe Brooks even had cancer. He would later insist that he most certainly did, but on Nov. 10, City of Hope National Medical Center confirmed to E! News that Brooks had never been treated there, despite him having produced billing statements supposedly from the hospital. Brooks would eventually admit to faking the paperwork.
Cue a world of hurt for Vicki, who had never felt more betrayed in her life.
She ultimately pieced her life back together and started to repair the relationships that had frayed while she was busy defending Brooks' honor. She dated Jack Losey for awhile in 2016, but then she met Steve Lodge and they've now been together for over a year. The 12th season of RHOC premiered last month, with Vicki Gunvalson pressing on as the only original cast member to still star on the show full-time.
But no matter how long it's been since a gal's been a regular, old habits can die hard.
In August 2016, Jeana Keough reflected on leaving the show when she did, and whether she regretted anything, in an interview for Oprah's Next Chapter.
"I felt like it kind of saved my soul a little bit because Vicki is so sad," Jeana said, weighing in on what her former neighbor was up to in the romance department. "How she's portrayed and how her boyfriend's portrayed and I would never want to be that sad."
Sumber: http://www.eonline.com
Eonline
Tags: #Eonline