Selma Blair Accuses James Toback of Sexual Harassment and Wants Director to "Admit This Happened"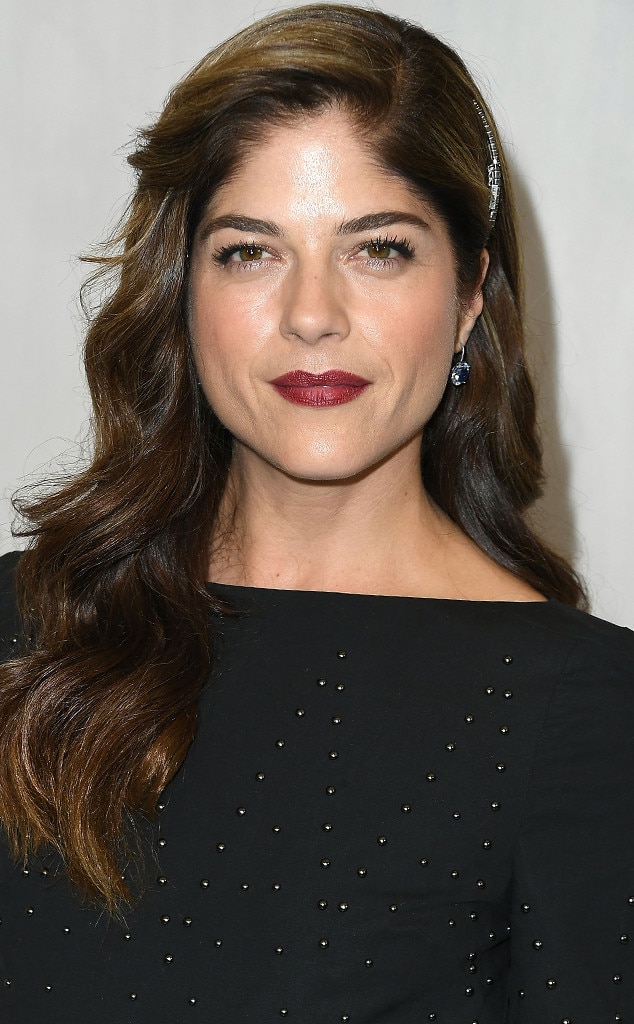 After reading a HuffPost article titled "James Toback Gets Us, He Truly Gets Us in 'The Private Life of a Modern Woman,'" Selma Blair, 45, tweeted the since-updated piece along with the word "ironic." Ironic, in the sense, the actress claims she was sexually harassed by the famed director—and she's not the only one do so.
Glenn Whipp from the Los Angeles Times published an article earlier this week in which 38 women, including Blair and Rachel McAdams, accused Toback of sexual harassment. According to Vanity Fair, Blair shared her story with the newspaper on the condition her name wouldn't be published. More than 200 accusers have since come forward, per Vanity Fair's count.
Toback denied the allegations reported by the Los Angeles Times and claimed he never met any of the 38 accusers or, if he did, it "was for five minutes" and he had "no recollection." He also told the newspaper it was  "biologically impossible" for him to perform the behavior cited in the story because he had diabetes and a heart condition for which he took medication; although, he declined to elaborate.
Toback's denial of the allegations was enough motivation for Blair to share her story with her name attached to it with Vanity Fair.
"When he called these women liars, and said he didn't recall meeting them and that the behavior alleged could not be attributed to him, I just felt rage and an obligation to speak publicly now," she told the magazine.
Here's a summary of her allegations against Toback based on her published conversations with Vanity Fair:
According to Blair, who played Vivian Kensington in Legally Blonde, her representatives had arranged for her to meet with Toback at a hotel in 1999 to discuss Harvard Man. Dressed for the film in a skirt and cable-knit sweater, Blair said she waited for the director in a hotel restaurant; however, she claimed he never came down and that she was told by the restaurant's hostess he wanted to meet her in his hotel room.
Entering the room feeling "a little unbalanced about the arrangement," Blair told Vanity Fair Toback said the two had a "real connection" but accused the actress of not having confidence. She said he then asked about her parents. After explaining her mother lived out of state and she had an "estranged relationship" with her father, Toback allegedly told her, "You know I could have him killed," adding,  "I do it all the time. I know people."
About 40 minutes later, Toback allegedly asked her if she trusted him and if she would perform a monologue naked. When the actress questioned why she needed to perform the monologue naked when the scene took place in a courtroom, he allegedly said, "Because I need to see how your body moves. How comfortable you are with your body. This is where I start training you."
Blair claimed she told him she felt "uncomfortable" but obliged. She recounted how she felt in that moment to Vanity Fair:
"I was so private about my body," she told the magazine. "I do remember looking down at the script and seeing my bare chest and not being able to focus on anything but the words and my face being so hot and puffy and feeling so ashamed."
After allegedly performing the monologue and being told she needed "a lot of work," Blair tried to make her exit; however, she said Toback then asked her, "Would you f-ck me?"
According to Vanity Fair, Blair said no and asked him if he was married. 
"It's complicated, but yes. She's wonderful. She's a writer. She's a teacher. And she's a wonderful woman," Toback allegedly said, per Blair's account. "And I have a girlfriend who can't get enough sex. But I love that. I have to come six or seven times a day or else it really doesn't work for me to get through my day."
She told the magazine she tried to leave again but that he told her she couldn't leave until "I have a release." She said she refused to touch or have sex with the director. So, he allegedly said, "It's O.K. I can come in my pants. I have to rub up against your leg. You have to pinch my nipples. And you have to look into my eyes.'"
"I tried to look away, but he would hold my face," Blair told Vanity Fair. "So I was forced to look into his eyes. And I felt disgust and shame, and like nobody would ever think of me as being clean again after being this close to the devil. His energy was so sinister."
Blair said she tried to leave again after performing the alleged act; however, she claimed he told her the following:
"There is a girl who went against me," Toback allegedly said to her, according to Vanity Fair. "She was going to talk about something I did. I am going to tell you, and this is a promise, if she ever tells anybody, no matter how much time she thinks went by, I have people who will pull up in a car, kidnap her, and throw her in the Hudson River with cement blocks on her feet. You understand what I'm talking about, right?"
According to the magazine, Blair said she understood and left. Although she told Vanity Fair she confided in her boyfriend about the incident, she told him not to reveal her secret. She also told her manager she never wanted to see Toback again. Still, she told the magazine she's opened up about her experience to only two people.
"I didn't want to speak up because, it sounds crazy but, even until now, I have been scared for my life," she told the magazine.
She also told Vanity Fair, "I would like to see Toback admit this happened. None of us are asking for money, for jobs, or for fame. We don't want to be threatened on social media or called whistleblowers by people who don't know what it means to be defiled and degraded and made to feel worthless. What I do want, in my dreams, is for someone bigger than me to call him out. I want to light the pyre of public opinion."
Toback, who's written for Vanity Fair in the past, told the magazine he had no comment on the allegations. E! News also reached out to Toback's agent for a statement; however, the agent is no longer affiliated with him.
Visit Vanity Fair to read the magazine's full article.
Sumber: http://www.eonline.com
Eonline
Tags: #Eonline