Should You Date Nate? See the Most Bizarre Dating Profile Ever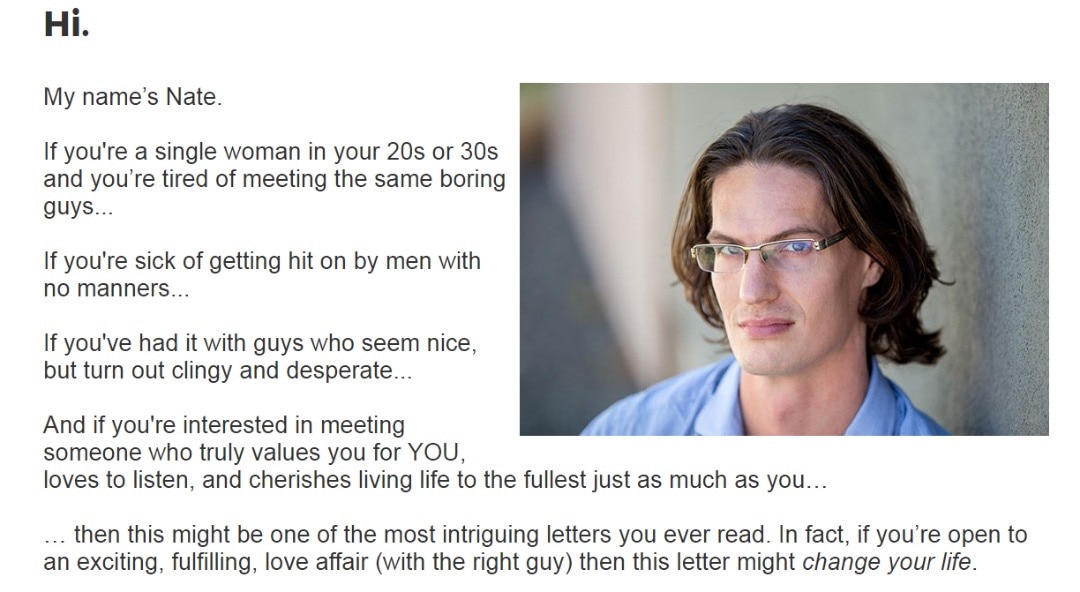 So we've heard ABC is currently casting for their next Bachelor… 
The internet has stumbled upon yet another weirdly fascinating and pretty hilarious gem. It's a website called ShouldYouDateNate.Com, and the Twitterverse can't seem to agree on whether or not 31-year-old Nate Rifkin of Denver, Col. actually went to such lengths to track down a potential life partner.
A self-described "passionate businessman" with a love for meditation, healthy living and his nutritional supplement company, Nate decided to create his own dating profile, because as he put it, Tinder was a bit restrictive for someone as wordy as Nate. (Seriously, this page reads like a freakin' novel.)
But instead of listing his most admirable qualities, Rifkin switches the script on a typical dating profile and describes all the reasons you'd never want to settle down with a guy like him. 
For instance, Rifkin considers himself a "recovering obsessed workaholic" without much of a social life or interest in anything pop culture-related (sorry E! News readership), explaining, "I abhor the stuff 95% of the population obsesses over!" Nate also goes into great detail about his financial hardships, but don't worry future Mrs. Rifkin—his supplement hustle is about to pay off big time. 
As for what Nate can offer his lucky lady, he writes, "I'm the sort of lover who is loyal to the woman I cherish, and wants her to blossom, to help her grow, and makes her feel good. In my opinion, that's an important part of a satisfying, exciting relationship, wouldn't you agree?"
Why yes, yes we would.
But if Nate sounds like your kind of guy (and a free vacation for two sounds promising) make sure you're not a heavy partier, enjoy working out and eating healthy, hate ending your evening with reality television and oh yeah, libertarians only. 
In his words, "My idea of a perfect woman is someone who is intelligent, healthy, happy, ambitious, spiritual, and has a good sense of humor. As far as age is concerned, if you are somewhere between 22 and 35 that's just fine. If you have a slender, healthy body, a reasonably slim waist, and a very pretty face then, quite frankly, you sound like heaven to me!"
Fit the bill? Nate's asking for eligible bachelorettes to shoot him an "exciting message" about why they're The One. 
Good luck, ladies!
Sumber: http://www.eonline.com
Eonline
Tags: #Eonline