The Bachelor's Nick Viall and Vanessa Grimaldi Play the Newly Engaged Game and They're Totally in Sync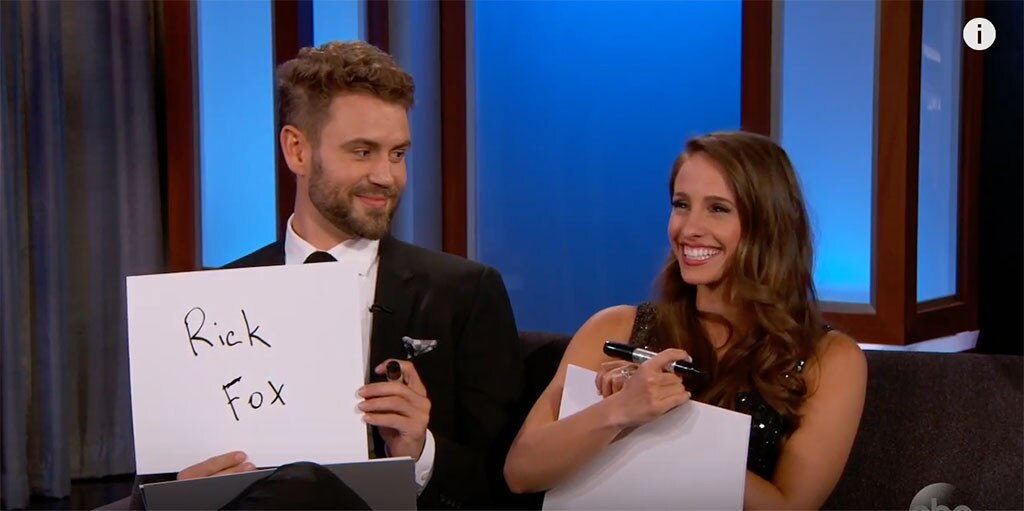 Nick Viall picked a winner. 
Following the highly anticipated finale of The Bachelor Monday night, the reality star reunited with his secret fiancée, Vanessa Grimaldi, for their first test as future Mr. and Mrs.—Jimmy Kimmel's Newly Engaged Game. 
The late-night host took the duo to task with a series of questions meant to test their knowledge of each other. In order to win useful household items like a panini press and cherry pitter, they had to write the correct answer on their card and reveal it to the audience. Let the games begin!
The future groom and bride could not be tricked as they answered every question with confidence, from their significant other's middle name to their astrological sign. As two libras, they're even on the same page according to the stars. 
"We're two days apart," Grimaldi revealed. 
As for celebrity crushes, while the Canadian native has the hots for retired basketball player Rick Fox, Viall reaffirmed he only has eyes for his future wife.
As for the finale question, the two had to confirm where they first made love. Drumroll please…
Finland—the site of their Fantasy Suite dates. 
Well, according to this game, these two couldn't be more on the same page. Still, the true test of their relationship remains ahead— real life. 
Sumber: http://www.eonline.com
Eonline
Tags: #Eonline