Why Renee Zellweger Disappeared From Hollywood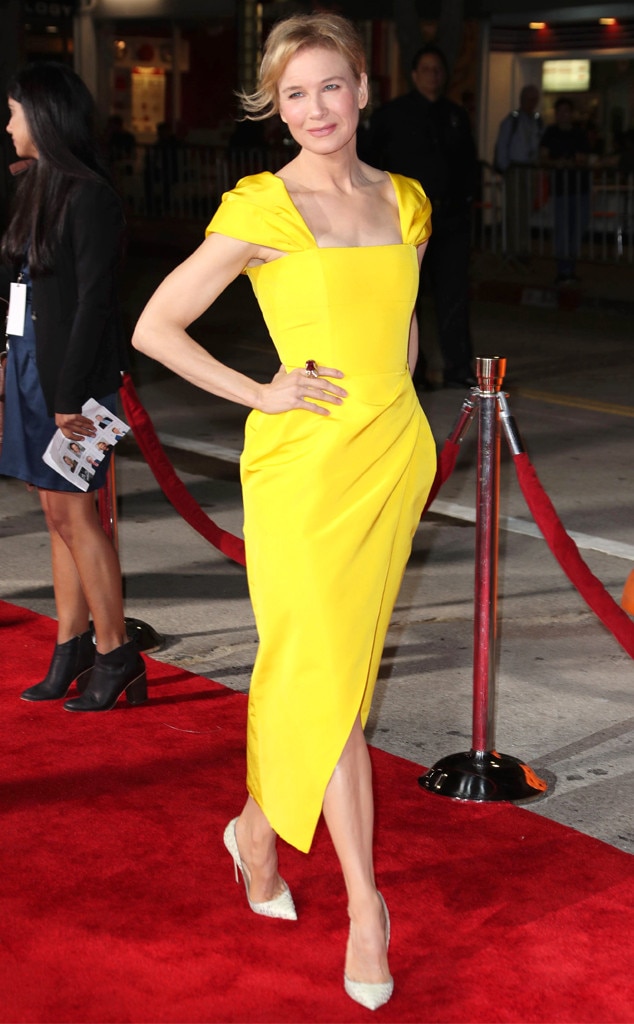 It's been over 20 years since Renée Zellwegerhad us at "Hello," and so much has changed for the actress. Since her breakout role in Jerry Maguire she has solidified her spot on the A-list and her name has become more synonymous with rom-coms than Bridget Jones herself. 
But Zellweger has also had a somewhat complicated relationship with her own fame. The 2010s were a banner decade for the actress—she starred in Chicago, kicked off the Bridget Jones' Diary franchise, won an Oscar for Cold Mountain and was nominated for two others. But by the end of the decade she gave it all up.
After starring in My Own Love Song opposite Forest Whitaker, Zellweger stepped away from the spotlight and quit acting for six whole years.  
Zellweger didn't explain much about her decision at the time (not that she owed anybody anything), and in fact her semi-retirement wasn't so much announced as it was slowly realized as the years away from Hollywood dragged on. She spent a good portion of her time traveling abroad, going to places like Thailand and Cambodia and volunteering in Africa with women's groups, and was rarely spotted at industry events. 
Years later the actress gave some insight to E! News' Marc Malkinabout what may have been behind, at least in part, her decision to leave the spotlight: She explained that she suffered from what she calls "imposter syndrome," describing her constant feelings that "This is the time you're going to be figured out, this is the time you're going to get fired, for sure." 
In a moment that serves to showcase both the best and worst of Hollywood, Zellweger reentered the public conversation wholly unwillingly during her hiatus after stepping out for the 2014 Elle Women in Hollywood Awards looking markedly different. She was instantly subjected to hordes of criticism and speculation over her new appearance, ranging from nosy to downright misogynist. And while it was something that no woman should have to address publicly, it gave Zellweger the chance to let her fans know that she was reveling in her hiatus. 
"I'm glad folks think I look different," she told People shortly after the Internet rumors started to run rampant. "I'm living a different, happy, more fulfilling life, and I'm thrilled that perhaps it shows. My friends say that I look peaceful. I am healthy. For a long time I wasn't doing such a good job with that. I took on a schedule that is not realistically sustainable and didn't allow for taking care of myself. Rather than stopping to recalibrate, I kept running until I was depleted and made bad choices about how to conceal the exhaustion. I was aware of the chaos and finally chose different things."
In her years off-camera she leaned into all of good things in life, including her relationship with musician Doyle Bramhall. It seems that those years were restorative, because in 2016 she decided to fight back even more for the treatment she received, penning a powerful op-ed about the experience.
"It's no secret that a woman's worth has been historically measured by her appearance," she wrote. "Not that it's anyone's business, but I did not make a decision to alter my face and have surgery on my eyes." 
She also added: "I am not writing today because I have been publicly bullied or because the value of my work has been questioned by a critic whose ideal physical representation of a fictional character originated 16 years ago, over which he feels ownership, I no longer meet…I'm writing because to be fair to myself, I must make some claims on the truths of my life and because witnessing the transmutation of tabloid fodder from speculation to truth is deeply troubling." 
Around this same time, Renee made her hotly-anticipated return to the big screen with the third installment of the Bridget Jones franchise. It was a huge step in her life and one that she didn't take lightly. She explained to American Way that, after all those years, she craved the creative outlet that acting provided her. 
"When I stopped making films, it was because it became more depleting than rewarding," she said. "It was because of the way I was living my life, and I don't think you can be good in a creative medium if you aren't grateful for the opportunity to participate. I started to miss it and I felt ready." 
Bridget Jones' Baby was seemingly the perfect cinematic vehicle to orchestrate her big screen comeback. The role was an easy fit and audiences the world over love the series. Watching a Bridget Jones movie is like hanging out again with an old friend and Zellweger's fans were grateful she decided to join them again. The same could be said for Zellweger herself and the character—re-joining the industry is easier when you do it with such a familiar role. 
She was cautious about her return, however. During the press tour for Bridget Jones' Baby she was careful not to make any big pronouncements about what this move meant for her career and her future plans. When E! News asked her about whether the role would mean her fans would start seeing her in more regular projects, she answered "I'm gonna take my time and see what happens." 
The flick went on to become the number one movie in the UK and earn over $200 million at the box office. There's no telling whether Zellweger was banking on the sequel's success, but this week she returns to the big screen yet again. The actress is starring in Same Kind of Different as Me, about a high-powered international art dealer who befriends a dangerous man in order to resuscitate his failing marriage. She has been doing minimal press for the movie, but she is beginning to slowly beef up her IMDb page again. 
She recently wrapped Best Day of My Life, alongside Sarah Jessica Parkerand Taylor Kinney, and is in pre-production for Berlin, I Love You, whose cast boasts names like Jared Leto, Keira Knightley, Orlando Bloomand Sophie Turner. 
It's hard to say whether this marks a return to the busy resumé she boasted during the height of her fame, but it's certain that she's making a push to get back into the industry. Fans may never experience the Renee they got to know during the last decade, but in Hollywood you take what you can get. 
Sumber: http://www.eonline.com
Eonline
Tags: #Eonline